Cypress County fire services to shuffle funding resources after grant cut
Posted on March 10, 2020 by 40 Mile Commentator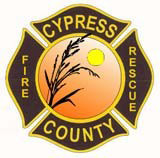 By Justin Seward
Commentator/Courier
Cypress County fire services were one of many departments across the province to utilize the Fire Services Training program grant to train their volunteer firefighters.
However, the county will have to look down another route after the UCP government axed the grant after this year in its Feb. 27 budget.
Cypress County Fire Chief Kelly Meyer says the Alberta Fire Chiefs Association has confirmed that funding will be going out in 2020 but will effect 2021 funding.
The program dispersed over $500,000 between fire departments that applied for the grant to assist communities to ensure local fire services have adequately trained members.
"This really affects a lot of municipalities that don't have training budgets," said Meyer.
"A lot of organizations, they really depend on the training grant from the province. With Cypress County, we do apply every year. We do go into collaboration with our municipal partners and we have been successful in the past to receive money and that's helped supplement training for our members."
Meyer says the county does have a training budget, which fire services will look at allocating their funds to ensure the members get the proper training that's within their budget.
The exact number has not been released with the budget yet, Meyer confirmed.
The provincial grant that was applied last year between Cypress County and the County of Forty Mile was $13,000 that was split between the municipalities for 2019 and into 2020.
"That got us some 1001 Level 1 training (basic fire skills to become firefighter ), working on getting our members Level 2 training for the NFPA 1001 (advanced training)," said Meyer.
"That doesn't go too far when you start looking at paying the members, the course fees, getting instructors, getting evaluators."
The cut will reduce the training that will be provided to members and the choices made on level of service to make the members compliant under Occupation Health and Safety, he added.
"We're really going to have to do a lot of shuffling to meet the needs of training requirements," he said.
Cypress County fire services will change as to how they bring on members.
"If we have members that are fully trained, we'll be looking at them. I know there are members in the organization who are in the county that want to get the training and want to help the community. So we're going to look at that too," said Meyer.
The plan now will be to look at more in house training over getting instructors to come in and teach or sending people away.
Meyer says he had heard rumblings from other fire chiefs he spoke to that they were expecting something but nothing this drastic.
The county and Redcliff fire departments did a conjoint application for 2020 and the first few months of 2021 and have not received any funding yet.