Foremost's 'Condor' drone as big as helicopter
Posted on March 10, 2020 by 40 Mile Commentator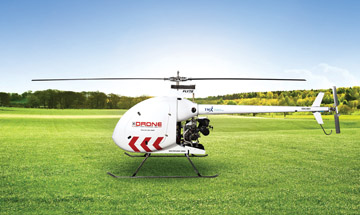 Contributed Photo The "Condor" is a drone that in size rivals a traditional helicopter and can carry 400-pounds of cargo. It will be tested in southeastern Alberta this summer at the Foremost UVS range, according to the company developing the unmanned vehicle, Drone Delivery Canada. -- Supplied photo
By Collin Gallant
Alberta Newspaper Group
Big things are happening at the Foremost Unmanned Vehicles testing range.
The biggest, in a physical sense, is a new drone that rivals the size of a traditional helicopter and can deliver a payload of 400 pounds.
Drone Delivery Canada will test the "Condor" south of Medicine Hat this summer at the 700 square-mile testing facility.
Meanwhile, a new partnership with major defence contractor gets underway and new federal money will add to the site's capabilities.
"We have a full slate of projects planned for the summer, and over the next fall and winter," said Doug Hanna, the general manager of the test range. "It will be a lot busier, and that's things lining up."
Last week, Drone Delivery announced it is preparing to test its heavy lift, long-range entry at the southeast Alberta facility in an effort to move in to the commercial market next fall.
Measuring 22 feet long, with a rotor diameter of 20 feet, the "Condor" it has a stated range of 200 kilometres and a top speed of 120 kilometres per hour and a carrying capacity of 180 kilograms.
That's the largest craft that's arrived at the facility so far, said Hanna, but just the type of vehicle that was envisioned when the testing grounds were first developed 10 years ago.
"Based on direct market feedback, this will be a game-changer for the company, our customers and the industry overall," said DDC's president Michael Zahra in a release.
The aircraft was showcased at the Toronto international car show earlier this year. The southern Ontario company states it will move drones beyond observational or mapping applications to cargo vehicles that could deliver food, medicine, equipment or other supplies in remote or hard to reach locations.
Currently, Transport Canada provides certification and permits to vehicle models and operations on a case-by-case basis.
Hanna says the work done over the next few years at Foremost will provide the underlying safety data to create a standardized protocols and eventually standardized licensing requirements.
In Foremost, work will separately proceed on developing new air-traffic control software and onboard programs for collision-avoidance computer systems, as well as developing new flight paths as part of a federal initiative.
The range entered into a five-year agreement to develop a tracking system, known as Skysensus, with three Alberta-based developer partners and international defence contractor Peraton.
The partnership will support 50 jobs in the province and results partly from requirements of additional investment on behalf of defence contractors that secure major procurement contracts with the federal government.
Last September, the facility received a $600,000 federal grant from the department of innovation and economic development to create flight test plans.
Share this story:Big things are happening at the Foremost Unmanned Vehicles testing range.