Phillips makes the most of rookie season with Broncos
Posted on March 10, 2020 by 40 Mile Commentator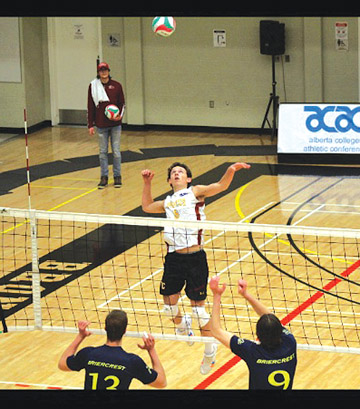 Photo Submitted by Aiyden Phillips Aiyden Phillips goes up for a hit during a game versus Briercrest this season.
For any rookie player on a team your hope is to make a good first impression with your teammates.
But for former Senator Gershaw Gator volleyball player, Aidyn Phillips, his first year with the Olds College Broncos volleyball was about seeing what it takes to be successful at the Alberta Colleges Athletic Conference level.
"Coming into the season we had an amazing coaching staff and an amazing team but once I saw the first practice, it was nothing like I expected it to be," said Phillips.
"Everything is three or four times quicker than what it was in high school."
He was not expecting to get the playing time he did this year.
"I came into this season expecting little to no playing time and I got put into almost every set this year."
Phillips says at the ACAC level it's not about killing the ball to the ground and players are blocking higher and players have to use their hands more.
Phillips was a part of an exciting moment in the Bronco program.
"(In ) the last three years the Broncos haven't won a game," he said.
"But this year we were 6-18 (first win was on Sept. 13, 2019 at St. Ambrose University in five sets). It's a huge positive. Everyone was so excited when we won that first game because some of the guys on this team have been here for three years and haven't won a game yet."
While the Broncos finished just shy of a provincial tournament berth this year, the team goal was to win 12 games but the coaches were content with the six win campaign.
"We've been motivated the entire year," he said.
"Like most of the scores with the games, (which) we didn't win were all close this year."
Lethbridge College, Red Deer College, SAIT and Briercrest rounded out the top 4 teams to beat and Phillips felt Olds can build off their compete levels against those teams in seasons to come.
"Everytime we played one of those teams we got better," he said.
Being a student athlete, he said "is a lot busier than high school. This past week is the only week we've had off since September."
He was a part of core group of players at Senator Gershaw that included Chris Byam, Thomas Smith and himself.
"I fed off him a lot," said Phillips, of playing with a high volleyball IQ player in Byam.
"He taught me so much about volleyball. Like going into high school I knew he was better than me and better than me throughout school. But I loved to be second best because it just motivates me to work harder to be the best I can be."
His hope in his second year to train harder this off season and earn himself a spot in the starting line up.