Talons take second place in 3A Southeast Basketball Conference league final
Posted on March 10, 2020 by 40 Mile Commentator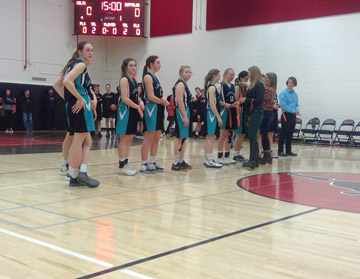 Commentator/Courier Photo by Samantha Johnson The Eagle Butte High School senior girls basketball receive their second place medals after being defeated by the McCoy Colts during the 3A league final at McCoy on March 5.
By Samantha Johnson
Commentator/Courier Freelancer
It's has been a busy season for the senior girls Talons basketball team.
City league playoffs were last week, and they had games on Tuesday and Thursday.
Finishing third place in the league, the first playoff game was in Brooks on Tuesday and could have gone either way. The Talons had lost the week previously to Brooks in two league games, once by seven points and the other by 14 points. When the two teams met for the first playoff game, the Talons won by 10 points, so it was a big upset for Brooks.
Coach Brandi Stroh said "We went back and reviewed their (Brooks) game, practiced their game so we knew how to play against them. All our practices were focusing not just on our weaknesses, but on the game Brooks would play. We figured out how to play them and came out stronger."
On the same night, McCoy met Crescent Heights and came out the winners by two points, meaning the Talons played against McCoy on Thursday night for the Southeast Basketball Conference final .
McCoy is a strong team and finished the league in first, losing only a single game in league all season. They have eight Grade 12 girls whereas the Talons only have two, making McCoy a stronger team.
Even so, Stroh said, "The league has been fairly level all season, every game could have gone either way."
Unfortunately, it didn't go well for the Talons from the start. Thirty seconds into the game, they sustained their first injury, Claire O'Connell with a concussion.
Then with just over a minute left in first half, the Talons suffered their second injured player of the game, Lindsay O'Connell (twin to Claire), who had to be benched with ice on her ankle. The Colts didn't lose any players to injuries during the game.
Overall, it was a fast paced, intense game, with the Talons maintaining high energy throughout despite being down two players. Unfortunately, the Colts pulled ahead with a 20-point lead during the second quarter, and while the Talons were able to maintain the gap, they weren't able to close it. The Colts took the city championship with a final score of 63-44.
It's not over yet for the Talons.
Stroh explained, "we are in a 3A league with five teams, two from Brooks, Crescent Heights, McCoy and Eagle Butte. Crescent Heights and McCoy are in our zone, but both Brooks teams are not. The city championship doesn't dictate zones because we play teams in our league that are not in our zones."
The south zone championships will be held at McCoy on March 13-14.
Winston Churchill from Lethbridge, W.R. Myers from Taber, McCoy, Crescent Heights and Eagle Butte will be competing. There is a wild card this year for south zone, so first and second places will go onto provincials in Edmonton, which are being held this year from March 18-21.
Stroh is hopeful the tournament will go well. "All year it has been a matter of who is on their game. How they are feeling depends on how well they play. I have several multi-sport athletes on my team, with conflicting schedules. It is busy, busy and pressure, pressure all the time for them."
"They are feeling the pressure of performing and not disappointing their parents, coaches and teammates. My focus this year has been to try to bring the mentality back into the game to have fun, for them to remember at the end of the day it is just basketball. I tell them not to overthink anything, to go and play like they are scrimmaging with their friends. I get the better game out of my team when they have that mentality."
The Talons haven't met either Winston Churchill or W.R. Myers this year in any of the tournaments they attended. They played Churchill last year and pulled off a win after an intense game. "I have a strong team this year and we feel good about our chances," Stroh said.