Training limitations will be felt in the county after grant cut
Posted on March 10, 2020 by 40 Mile Commentator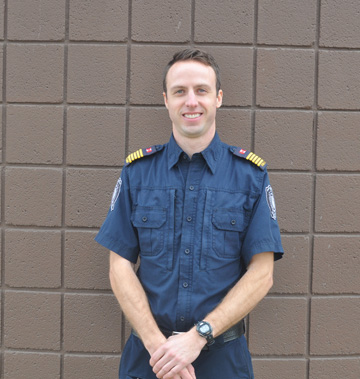 Commentator/Courier File Photo County of Forty Mile fire chief Dustin McGarry wants the public to be more vigilant as condition become dryer.
By Justin Seward
Commentator/Courier
Dustin McGarry, County of Forty Mile fire chief says there was a lot of confusion when the province announced they would be cutting the Fire Services Training Grant in its recent budget.
The confusion was whether or not the grant was immediately cut or if there was another year left of funding.
"We have a received a grant for the 2020-2021 year," said McGarry.
"The grants will be paid out this year and we will continue training using the grant throughout the 2020 year. This year we won't be seeing any changes. We will be training in full force and continue to increase our training and provide a high level of training to our firefighters and service to our residents."
McGarry says next year is when the grant will be completely cut and smaller municipalities with limited budgets will be greatly affected.
"It will impact levels of service, firefighter training and potentially firefighter's safety and will make it a lot harder for us to keep up with what we require," said McGarry.
He says what he sees affected is the amount training fire services can complete in one year.
"With the training grant, we can continue to run courses throughout the whole year (and) having that additional money to support our training budget the county provides," he said.
"Just relying on the county budget won't allow us to train as often. It won't allow us to do as much proficiency training and will limit our basic bread and butter type courses."
McGarry referred to the wildland training and the NFPA 1001 (basic firefighter training)as those courses.
The county's fire services will continue to utilize the training budget from the municipality.
"We will continuously have a budget from the County of Forty Mile to train," he said.
But when it comes to vehicle extrication or ice rescue training, those levels of service will drop off without additional money, he added.
The county fire services will continue to run in house training programs that are available.
The $25, 238 grant the county received has been split with Foremost and Bow Island to carry out the training in the grant agreement.
McGarry will be speaking county staff and council as to what direction to go in from here.