Local EMS and midget team hit the ice for HALO
Posted on March 17, 2020 by 40 Mile Commentator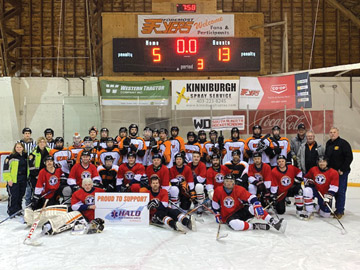 Photos submitted by Melinda Mastel. The Guns n' Hoses team played the local midget team in a charity game for HALO on Saturday in Foremost.
Submitted by Melinda Mastel
The support for the first annual Emergency Services Charity Hockey game had the Guns N' Hoses team against the midget hockey team on Saturday, March 14th at the Foremost Civic Centre was well supported by the community of Forty Mile. The hockey game was very entertaining as young children watched and cheered for their dads, who are part of EMS, parents came out to see what moves their sons still had from their minor hockey years and for the main reason of supporting such a wonderful cause, HALO – In Flight For Your Life. The midget team did win the game but they were so proud to be part of a worthy cause for their local communities.
From the evening proceeds from the 50/50 and all food and liquor sales were donated to Halo. The 50/50 amount raised was $400. The Forty Mike Regional FCSS also had set up a table for the local food bank which $500 in cash donations was received plus food items were donated. There were also a raffle draw and silent auction held.
It was great to see many minor hockey parents pitch in to work the very busy concession and members who are part of the Foremost Curling Club operate the bar upstairs.