Blues at the Bow suspends operations indefinitely
Posted on March 25, 2020 by 40 Mile Commentator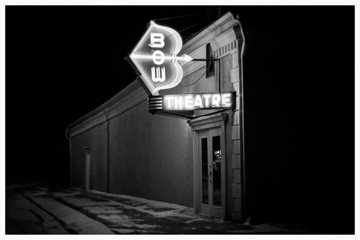 Blues at the Bow website photo
MO CRANKER
Alberta Newspaper Group
Blues at the Bow has suspended all operations indefinitely.
The organization was getting ready to host Colin James for a show in mid-March, but due to COVID-19 regulations, was forced to reschedule the show. No date is set, but the group is looking toward a potential November date to play it safe.
"Colin cancelled his entire western tour," said Blues at the Bow president Jason Riddell. "We're only a 240 seat venue, so we were cautiously hopeful, but we saw the writing on the wall.
"We were at the theatre getting it ready for the show, but we tried to be realistic."
Riddell says the Colin James show was going to be the biggest show ever for the venue, so it was crushing to see it cancelled.
"It was tough, but we understand," he said.
The venue has a show booked for May 30 which features Steve Strongman and Steve Marriner. Riddell says the status of the show is unknown.
"We're crossing our fingers," he said. "This stuff is changing every day, so we can't really comment about the show in May.
"We're working as if it will happen, but we will keep everyone posted."
Riddell says refunds are available for shows that are rescheduled.
"Just send us an email," he said. "We get it, we're going to refund, no questions asked."
Riddell says he is still looking at working on the season to bring more acts to Bow Island.
"We have some irons in the fire for later in the year," he said. "We're going to treat this as business as usual and hope for the best."
For more information and updates on shows go to http://www.bluesatthebow.com