County reeve addresses ratepayers amid COVID-19 crisis
Posted on March 25, 2020 by 40 Mile Commentator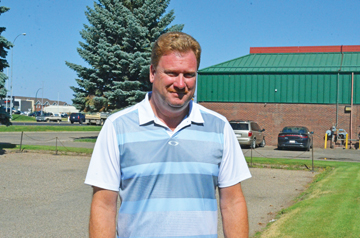 Southern Alberta Newspapers file photo MORE MOVEMENT NEEDED: Cypress County Reeve Dan Hamilton has requested a copy of the HEMS review after getting very little response from Health MInister Tyler Shandro.
Cypress County Reeve Dan Hamilton gave an update to the municipality's ratepayers on Friday as a result of the COVID-19 pandemic.
"The world around us has certainly changed quickly; we are facing unprecedented times," said Hamilton.
"A few weeks ago, the term 'social distancing', was not in my normal vocabulary. I would have never imagined that over the course of the last week that schools would close to students, flights cancelled, borders closing and major league sports teams would suspend their season. The COVID-19 pandemic is affecting all of us and has changed our community, province and world.
"We are fortunate to live in a strong, vibrant country; we're always look after our neighbours, family and friends. Residents have expressed they are struggling with fear and anxiety. Some are uncertain about their jobs and future income as the COVID-19 pandemic impacts their industry or place of work."
County businesses have been impacted harshly.
"Please support local businesses however you can," he reiterated.
The municipality has enacted the Emergency Coordination Centre, however, the county has not declared a Local State of Emergency.
"The ECC was activated to be proactive and we were prepared to assist," said Hamilton.
Please reach out to your neighbours and friends. Talk to them, offer to help, ask them for help. Thankfully we live in a world with technology that allows us to stay in a world that allows us to stay connected even while 'social distancing.'"
The county closed its office on March 16 and was effective immediately until further notice.
Postponements
Cypress County postponed Bylaw 2020/04's public hearing at council's March 24 meeting that pertained to Ruben's Veggies' new submission of building a greenhouse on 27- hectares of land just off of Highway 523, on Range Road 72. The company initially wanted to build on a 52-hectare piece of land, but withdrew that proposal after hearing heavy opposition last December.
The wind and solar energy night in April was also postponed.