Prairie Mennonite Alternative School has a busy year in new environment
Posted on March 25, 2020 by 40 Mile Commentator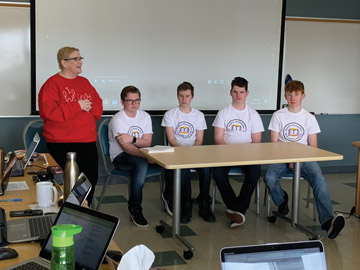 Commentator/Courier Photo by Justin Seward Tracy Frank, Prairie Mennonite Alternative School principal, and students David Loewen, Cornelius Dyck, Beny Wall and Willie Dyck were on hand at Prairie Rose School Division's board meeting on March. 10 to give an update on what's happening at the school.
By Justin Seward
Commentator/Courier
Prairie Mennonite Alternative School (formerly Redcliff's RMAP School) have been in their new school-the old St. Thomas d'Aquin building in Medicine Hat- since the beginning of the school year and presented what the students have been up to Prairie Rose School Division board of trustees on March 10.
The junior high students of David Loewen, Cornelius Dyck, Beny Wall and Willie Dyck were on hand at the meeting to answer any questions about the group film on what their school is all about.
"They worked on it. They did some revisions, we were going in one direction and had to change to another direction," said Tracy Frank, school principal, who was also present at the meeting.
"They worked hard on it and I tried to keep out of it as much as I could. Just a virtual tour of our school and I think they're very appreciative of the new school and the building. It was just kind of their thank you."
Willie says making the film was a good learning experience with the technology that was available.
"They really enjoy the gym and they're happy with the new space," he said of the response to the film.
Frank touched on collaboration with the Medicine Hat College nursing students coming into the school.
Eight nurses were in the school for eight weeks for twice a week and assisted in the classrooms by doing presentations on nutrition and worked with the CTF class by preparing healthy snacks with those students.
"They also did some interviewing of our staff and our German teacher," said Frank.
"They had to get to know the community because they'll be going out into Alberta Health Services and they want to know when you're working with the Mennonite community."
Additionally, Frank spoke to the Growth Mindset the teachers are trying to instill in their students by educating each other on not being afraid to fail, to have the mindset 'I can't do it. But I can't do it yet,' and to think about the process more than the outcome.
"Often we're goal setting in minds that there maybe failure and there will be obstacles and how to overcome those ," said Frank.
"What's their future? Start making those plans for the future. How to have a little more self confidence. They really do want to please. So they sometimes give up very quickly if they're not succeeding at things. We're really trying to move them past that and realize the more you do something, the better you are at it."
Frank says next year there will be three new families starting at the Kindergarten level that do not have older siblings at the school and it will be a start of rising numbers at the institution.
"Our numbers are going up, she said.
"We have more kids staying in junior high and we have four taking high school everyday at our school this year. Next year it looks we'll have double that. When we first opened the school, my goal was to have in five years, a couple graduates and we have."
A goal now is to get those students into a college or university, she added.
The presentation happened before classes were cancelled due to the COVID-19 pandemic.