County of Forty Mile fire services have taken measures for their members
Posted on April 8, 2020 by 40 Mile Commentator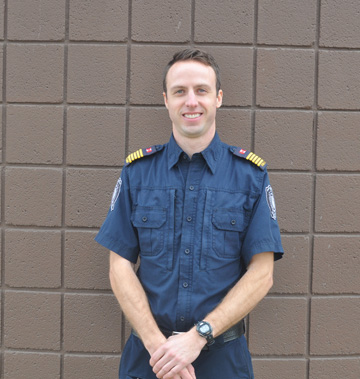 Commentator/Courier File Photo County of Forty Mile fire chief Dustin McGarry wants the public to be more vigilant as condition become dryer.
By Justin Seward
Commentator/Courier
The County of Forty Mile fire departments have taken measures to ensure their members are staying safe during the COVID-19 pandemic.
County fire chief Dustin McGarry says local fire services had equipped all of its members with the necessary PPE (personal protective equipment) they need to respond to any coronavirus-related call.
There will also be limited access for the public into all of the municipality's fire halls.
Firefighters will notice an adjustment to their routine.
"We've shut down practices currently," said McGarry.
"We're only allowing members in teams of a maximum two to go and do all of our truck checks weekly."
The fire departments are focusing on minimizing contact with each other so that if a member were to experience COVID-19 symptoms at a later date that they're not affecting the whole fire services and still provide that service to the residents of the county, he added.
"Everybody has the same personal challenge regardless of what your profession is," he said.
"Being self-isolated for long periods of time, not being able to connect with your friends or family and not being able to continue that training course you were in the middle of or attend practices weekly, which is something the members enjoy. The whole mental aspect has been hard for a lot of people. But physically we want everybody to be healthy. So we are requesting they stay at home."
If a medical call were to occur, the protocol now is that two members go to the hall and respond to that fire to minimize exposure.
As for structure fires, motor vehicle accidents and wildland calls, the fire department will call as many members out to the scene.
"If we can release some members, we will, and once we get back to the hall we do everything we need to become prepared for the next call," he said.
"We are not spending as much time debriefing at the hall and we are keeping our social distancing while we're there just to ensure the health and safety of the firefighters."
The firefighters have pulled out of some medical calls as they were previously.
"If the Alberta Health Services' ambulance is already attending the call, we don't want to expose too many essential services to a patient who has potential COVID-19," he said.
The province is only letting firefighters respond to immediately or life threatening events to reduce the amount of essential services going to these medical calls.
Fire permits
McGarry wanted to remind people that fire permits are available online at http://www.40mile.ca/fire-permit.