Alberta beef industry seeing packing plants reduce operations
Posted on April 21, 2020 by 40 Mile Commentator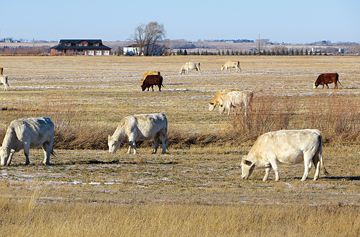 Commentator/Courier Commentator File Photo
By Justin Seward
Commentator/Courier
The Alberta beef industry is dependent on packing plants not making any significant changes to its operations to get through the uncertain times the world is working through right now.
"When it all comes back, we need the packers to be operational and do their job so we can move the cattle out of the feed lot," said Jacob Bueckert, vice president of the Alberta Cattle Feeders Association.
"This week we've heard that Cargill (Meat Solutions in High River) is down to (slaughtering) 1,500 head a day from their 4,500 head a day capacity. We haven't really seen the impacts of that yet. We're assuming that it's going to be lower prices on our end. It's going to back up cattle in the feed lots, which in turn will continue to back-up cattle entering the feed lots."
As a result, feed lots will have cattle longer due to the challenge of finding a spot to harvest the cows.
Cargill was shut down on Tuesday and Wednesday last week and it was expected upon opening again that the business was going to run at 33 per cent of its capacity and down to one shift of operations, he added.
The other shift was shut down for two weeks because of COVID-19 cases.
Brooks' JBS packing plant could not be reached for comment on their current situation.
"Right now in Alberta we kill 9,000 head a day and I don't remember the exact number that goes south. If all of sudden we're down to 4,500, there's still that many cattle ready. Those are some pretty ugly numbers," he said.
Southern Alberta beef producers travel to two plants in Washington State.
"(One plant) I think they have 34 COVID-19 cases there and so they've been shut down for cleaning and for isolation. I don't know what that's going to look like. It's definitely scary on our side. We don't know what the next couple of weeks is going to look like with what the capacity to take the cattle (is)."
The other plant is still running at 90 per cent capacity.
He considers the whole industry "a beautiful pipeline."
"The calves are born in the spring and into the summer, and they get shipped in October, November, December. Cattle are always put in the pipeline of economics. It's not like a grain bin where you can just close the door and wait for prices to rally and start hauling. The whole system is designed to flow everyday and so when you take a day off , it affects everything down the line."
Bueckert thinks a positive for packers in this pandemic is if the consumer hears that the industry is losing a portion of its packing, they will go back to making sure there is enough food on the table and do a second round of "clearing the shelves."
"I kind of think that's probably what's going to happen," he said.
"People panic very easily. That'll be good for the packing industry in hoping that if they make money, they're going to find ways to continue to operate. If they do that, they're going to want our product and continue to bid us a fair price."
Bueckert estimated in Alberta, as of April 15, that producers are losing over $700 per head at a rate of $1.09 per pound.
He estimated the cattle industry is losing $38 million per week.
"We really want the Labour Minister and the government to find ways to get people back to work in the packing plants," said Bueckert.
For the long term, the industry is working on business management strategies with the government, while in the meantime insurance can be bought through the government and agriculture stability programs are being utilized.