Local equestrian facility's fate could be determined by COVID-19 pandemic
Posted on April 21, 2020 by 40 Mile Commentator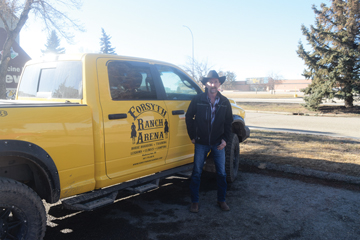 By Justin Seward
Commentator/Courier
Forsyth Ranch Arena is used to many riders attending its programs on a weekly basis. But since the COVID-19 pandemic has escalated, the equestrian facility's was put on temporary closure along with all recreation facilities, as per government orders
However, that closure could become permanent if this world health crisis does not clear up in the near future.
"It's definitely tough right now," said Morley Forsyth, owner of the equestrian riding arena business.
"All my programs have shut down. I guess it depends how long it goes for . I've got clients that say that they will come back. But the financial situation of my clients does mean that's going to be the tough part. Are they going to cut out any extracurricular activities fora little while just because of finances, scares me a little bit.
"The fact that kids are going to be out of school until September and the way they're talking, if they completely shut down until then, I don't think I'll survive and be able to comeback out of it."
Forsyth says he's losing over $5,000 a month right now from no programming.
"But because I'm feeding my horses and I'm not getting any levy on. That's costing me a lot of money," he said.
The Township Road 120 facility tried to stay open as long as possible but it was at the concerns of clients that the decision was made to shut down.
"They were worried," he said.
"The insurance company that most people use, that's what people are going by and basically nothing would be insured if something happened."
While only two horses have gone home with their owners during these unprecedented times, there are still many horses boarding at the barn, including some of his own.
"I own quite a few of my own that I do lessons with," he said.
"It's keeping me somewhat sane. I'm not used to sitting around. So it's really hard."
Forsyth explored every financial option but cannot collect any those funds due to collecting money still with the board people that are paying for their horses.
"The main part of my business is shut down," he said.
"But I didn't pay my utility bill last month because they said we can get away with that. I put off making my payments by talking to the bank. They've let me take three months where I don't have to take the payments. I'm trying to make sure I have enough money to buy feed for the horses and keep that part going."
Forsyth said before the pandemic escalated that the business was not making him a lot of money, but loves what he's doing all on his own.
Clients have been dropping off prepared food and having conversations with him at distance from their vehicles.