CFSEA hosting a Stay-at-Home Gala Saturday
Posted on April 29, 2020 by 40 Mile Commentator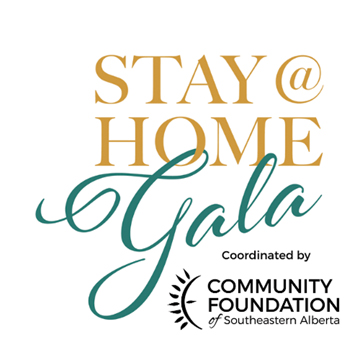 Commentator/Courier
Community Foundations of Southeast Alberta (CFSEA) in conjunction with the sponsorship of Pritchard & Co. Law Firm, LLP, will present a one-of-a-kind Stay-at-Home Gala on May 2 from 5:30 p.m. to 7:30 p.m.
Southeast Albertans will be able to join hundreds of Canadians and enjoy the option of all the familiar elements of a gala: optional dinner (delivered to your door or picked up curbside, game-changing speakers, a silent auction and more.
"Community Foundations across Canada are stepping up to facilitate support for local COVID-19 response work. Our event will benefit the entire region of SE Alberta and funds raised will be eligible for the enhanced funding being provided by the Government of Alberta, said Sue Edwards, CFSEA assistant director.
The event's focus is to unite people from across the nation with an aim to strengthen community efforts that manage the effects of COVID-19.
The event will have local guest speakers and musicians as part of the dinner program, guests who are tuning in are encouraged to don their best, log on and dine together.
Award-winning entrepreneur, entertainer and coach, Trevor Moore, will be joined by special guest Mackenzie Porter to emcee the event.
The event is geared towards raising funds for CFSEA's focus of helping charity needs across the region during these unprecedented times.
"COVID-19 is challenging many of our community's norms, but there is one that it won't ever change and that is our community's generosity and will to help one another," said Michael Anctil, CFSEA board chair.
To register and learn more you can visit stayathomegala.com or contact Edwards at (403) 527-9038.
Tickets are $25 and all the proceeds will go back into CFSEA's COVID-19 Response Fund.