Quonset Days cancelled after it was announced summer events were kiboshed in Alberta
Posted on April 29, 2020 by 40 Mile Commentator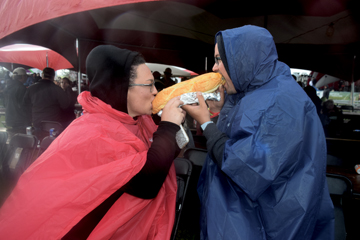 A DELICIOUS MEAL: Kelly and Mike Sehn enjoy a giant $20 Quonset Dog from Premium Sausage at the 2019 edition of Quonset Days. Organizers have cancelled the event for the second year in a row in 2021.
Quonset Days organizers decided to cancel the 2020 event on Friday after Alberta's chief medical officer Dr. Deena Hinshaw's Thursday update included that gatherings of more than 15 people are prohibited through the summer months.
"Overall we could see the writing on the wall that it wasn't likely going to happen," said Trevor Biemans, Quonset Days general manager.
The two-day country music festival in July acts as a fundraiser for the ALS Society of Alberta.
"Obviously it's hard on the ALS Society, especially that all of their events, runs and walks were going to be cancelled as well. We were hoping for a better outcome just so we can give them that influx of funding that they're going to need. They're going to be suffering as much as anybody," said Biemans.
Organizers understood the position of Alberta Health Services and the Canadian government.
"The priority right now is keeping Albertans and Canadians safe and healthy and as unfortunate as it is, we are going to move on and next year is already in the planning," he said.
"Brighter horizons in the future. But for right now we're going to take a step back and focus on recovery."
Refunds will be provided to every person that purchased tickets to the 2020 event; however, there have been people who have donated their money back into the event
"We are going to (move) forward as the Quonset Days Foundation and still supporting the ALS Society one way or another this year in any way we can," he said.
"And having that money donated to us helps quite a bit."
Quonset Days has raised over $400,000 to date for the ALS Society.