Local retired police officer writes book to reflect on memoirs while on duty
Posted on May 5, 2020 by 40 Mile Commentator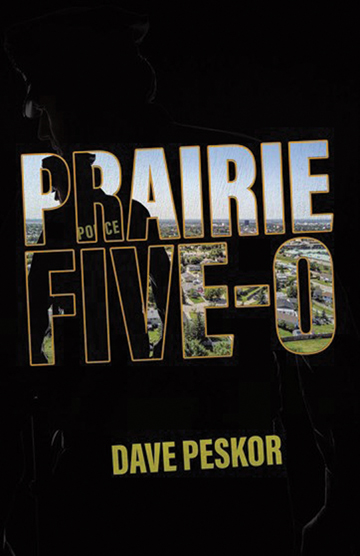 By Justin Seward
Commentator/Courier
Dave Peskor is a local retired police officer turned author.
Earlier this year, Peskor released "Prairie Five-O," which is a memoir he wrote that encapsulates 40 years of law enforcement in Western Canada.
This book is a short story telling of a young-cop who wanted to be a policeman since , at four or five-years -old saw a Canada Post letter carrier wearing his blue serge uniform and cap with a shiny badge.
Peskor emphasized the book contains no cop drama. Instead, he pokes fun at himself, colleagues and the many coluorful characters that are encountered as they strove to "Serve and Protect". Peskor compared the book to that of what was said in the 1950's TV series Dragnet, "Ladies and gentlemen: the story you are about to hear is true. Only the names have been changed to protect the innocent."
"Anyone that knows me, knows I've got a unique sense of humor," he said.
"It was just natural for me to write something that was humorous rather than your typical blood-on-the-badge cop problem."
After starting his career in law enforcement as a boy soldier in the Canadian Military Police Reserve, he then spent many years as a provincial correctional officer before joining the Redcliff Town Police Department as a constable from 1977-1992.
His first stint with the Medicine Hat Police Service was from 1992 to 2008 where he decided it was time to focus on a new path as a Crime Intelligence Analyst.
"I had some training under my belt," he said.
"I approached the police chief at the time and said 'hey do I have an idea for you.' So I was kept on under contract as a civilian Criminal Intelligence Analyst . I did that until 2016."
He retired in the Medicine Hat Police Services as a Sergeant in the same year.
"Some were pretty extraordinary," said Peskor of the events that were observed with his colleagues.
"I thought 'you know you should write this stuff down because no one would ever believe it.' So I started doing that and I'd sit in a coffee shop and write things down on restaurant napkins, scraps of paper, matchbook covers and just threw them in a drawer."
The tales were written down from his time in Medicine Hat and Redcliff as well as Calgary and elsewhere in Alberta.
"Then around 2005, I found these things and I started to flush out a preliminary manuscript, never really totally thinking that I would really publish it," said Peskor.
"But I started putting it down in a more readable form. I did that for awhile then that got put away and almost forgotten for several years and I eventually resurrected it."
Peskor says once he got fleshing out those stories, he found he remembered another one and another one.
The book really took off when he retired.
"It kind of took off from there, "he said.
"It was around late 2017,early 2018 when I really said 'I'm going to make this happen.'"
He reached out to friends and family on social media and told them he had a story and " people just ate it up and more, more, more."
A lot of his former police colleagues from police work remembered those events too.
"Prairie Five- O" is available on Amazon.