Eagle Butte celebrates its 2020 graduates with a parade
Posted on May 12, 2020 by 40 Mile Commentator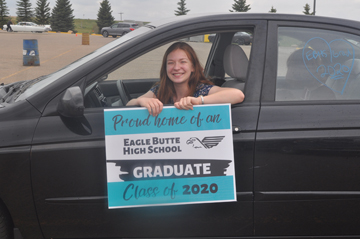 Commentator/Courier Photo By Justin Seward Azlin Ferguson diplays her sign.
By Justin Seward
Commentator/Courier
May 8, 2020 was supposed to be the day where Eagle Butte High School's 2020 graduation class were to walk the stage with their caps and gowns.
However due to COVID-19 and its restrictions that was not possible this year and the school got creative and hosted a parade for its graduating students on Friday.
Students were seen driving into the parking lot in their vehicles to the cheer of staff and after a loop around the parking lot, they received a lawn graduation sign.
"Today was supposed to be the big ceremony at the Cypress Centre, but we needed to do something. It's a big day for them and we're first up for grad in the area," said Mark Heinricks, Eagle Butte's principal.
"So we thought well let's make sure something that we can do, that the weather, although it's not great, won't stop us and so we thought 'yeah lets bring them through on a parade.' We had signs made for the kids because we wanted them to be able to celebrate in their own communities as well."
Graduating student Clayton Lehr was appreciative of the efforts.
"We appreciate that they can produce something because everyone told me 'this is suppose to be your big year, you graduate,'" said Clayton Lehr.
"Honestly I thought 'well I guess I'll have to go with the change of the world.' Like if the world has to do their thing, we have to do our thing. I'm happy they made something work out. Hopefully after all this is over, we can do something more together."
Azlin Ferguson said she "definitely cried" when she came to the parade route.
"There's a lot of emotion looking at the start to be our grad day," she said.
"It's sad but I guess it's pretty nice to have everyone supporting the teachers that come to your grad."
The school is aiming for an October ceremony if more restrictions lift.