SEASAR makes changes with call procedures and finances
Posted on May 19, 2020 by 40 Mile Commentator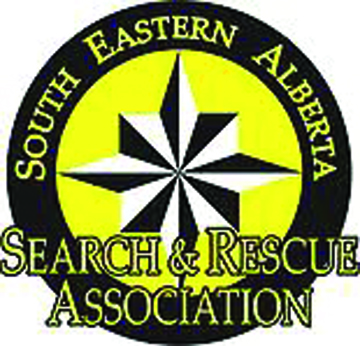 By Justin Seward
Commentator/Courier
SEASAR (South Eastern Alberta Search and Rescue) has seen its fair share of challenges amid the COVID-19 pandemic.
"It's definitely had an impact on SEASAR," said DeLea Mapstone, SEASAR vice president.
"And the first one I would probably say is some of our fundraising capabilities because we are 100 per cent volunteer . We get a little bit of money from the government every year to do a little bit of training. Other than that, everything we do, every piece of equipment we get is either applied for through grants or fundraising and it's definitely had an impact on that so far in this current year."
SEASAR relies on a casino and with those facilities being shut down for the last while, they now will have to adjust to using their reserve funds and looking towards different venues to try to do fundraising.
"That's still in discussion," said Mapstone on venues.
"We're working very hard at the board level to come up with some ways to do that."
Aside from the funding challenges, the pandemic has changed the way the 44 members respond to calls.
"We have to be the same as everybody else as far as social distancing and personal protective equipment. And with personal protective equipment at a premium, we've had to work very hard to acquire some to protect our team," said Mapstone.
With members having to closely interact with people on calls, SEASAR has developed some procedures around their response to COVID-19.
"We have an Occupational Health and Safety committee in place and a search management team that's also been in discussion with them as well as looking at the medical side of it and bringing that in as much as we can," she said.
"We are following what is recommended by Alberta Health Services in this situation. We've looked at things very closely. We have procedures in place what we would normally do for call outs at our home base has changed. Instead of having a bunch of people gathering to do one job and get it done quickly, we're doing more of a relay type situation.
"Anytime we can't be socially distanced, everybody is wearing masks and still doing their best to social distance. We are cleaning any equipment that we have right after it's used."
Measures have changed going to calls as well.
"We generally try to carpool as much as we can going to locations," said Mapstone.
"We've tried to keep as much social distance as we can. We are responding when we go somewhere, taking more vehicles, things like that. The cost has actually increased for our group to do some of that stuff. Some of the people that show up don't want to be close to too many people (and) trying to keep that circle small that they're involved with. We've also taken extra vehicles and equipment related to that sort of thing as well."
When found, subjects will be masked and the members will keep their masks on.
Members have been asked to be honest with the organizations and there are some members who have people at home who are vulnerable to the illness and have chosen either not to respond or work at home, helping with the technological side of operations.
The local search and rescue unit has had only six calls since the calendar year turned to 2020, which according to Mapstone "is a fair number of calls," with a few coming in the last couple of weeks with the Medicine Hat Police Service.