STARS would handle S. Alberta for now… from Calgary
Posted on May 19, 2020 by 40 Mile Commentator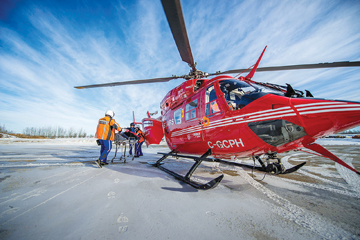 A STARS medevac in a BK117 helicopter.--SUBMITTED PHOTO.
By Gillian Slade
Alberta Newspaper Group
After HALO announced this week it may close its operation on July 1, STARS says it will continue to provide service across southern Alberta as necessary.
Mike Lamacchia, chief operating officer STARS (Shock Trauma Air Rescue Service), says it has had a contractual agreement with the provincial government to serve southern Alberta. It has one helicopter located in Calgary plus one as backup.
He says if HALO decides to close it will not result is less coverage for Calgary. The city itself is supported primarily through the ground ambulance system and STARS covers more rural areas in southern Alberta from Lethbridge, Brooks, Cardston and Pincher Creek. In a sense HALO and STARS have been covering the same area, he said.
"HALO covers during the daytime … our operation is day and night," said Lamacchia. "We cover the night for sure in southern Alberta."
Paul Carolan, chief operating officer for HALO, says STARS has a different model and has marketed the idea of a "critical care team" as part of its operation.
"STARS is able to say that they have a better team, which I believe is them saying that. I don't believe it is the government or AHS saying that," said Carolan.
HALO announced this week that June 1 it will stop using its twin-engine helicopter and return to using only a single-engine machine. It has been unable to negotiate operational funding from Alberta Health and its local fundraising activities have been severely restricted during the COVID-19 pandemic. In all the years of operating there has only been a one-time grant of about $1 million under the NDP government.
The News requested a phone interview with Minister of Health Tyler Shandro on Friday. An emailed response from a spokesperson says Alberta Health has responded to HALO's communication with that office a week ago and it is "fast-tracking a review of province-wide helicopter ambulance services."
Lamacchia says there are no plans to establish a base in Medicine Hat. If HALO closes it will be up to Alberta Health to decide how to provide coverage, taking into account the additional time it will take to be dispatched from Calgary rather than Medicine Hat.
"We work with Alberta Health Services and collaborate" to determine what is best for the patient and the time, said Lamacchia.
HALO has expressed concerns that it is not dispatched on all the medevacs that it is best positioned to do. It is also only paid for the calls it is dispatched on.
STARS is involved in that dispatching.
"We help in the dispatch process but Alberta Health Services pretty much sets the guidelines in regards to what assets go where … and we follow them," said Lamacchia.
STARS is able to reach Medicine Hat from Calgary and return in the H145 helicopter on one tank of gas without the need for refuelling. Lamacchia did not want to speculate on whether it would need to refuel if the trip extended into the Cypress Hills. The length of the flight and weather can all influence fuel consumption. There is the possibility that a flight to Cypress Hill could require a stop at Medicine Hat's airport to refuel for the return journey. Whether that would affect the patient would depend on whether the patient was being flown to MHRH or Calgary.
In the last fiscal year STARS has flown 200 missions in southern Alberta including Taber and Brooks. None of these were in Calgary, said Lamacchia. Five of those flights have been to Medicine Hat Regional Hospital, using the helipad, for facilities transfers.
Carolan says HALO has also done trips that involved the helipad at MHRH including a recent inter-facility transfer to Calgary.
Lamacchia says STARS was fundraising in Medicine Hat recently because it still needs to raise 80 per cent of its budget through events because only 20 per cent is covered by AHS.