Eagle Butte's running track to get paved
Posted on May 27, 2020 by 40 Mile Commentator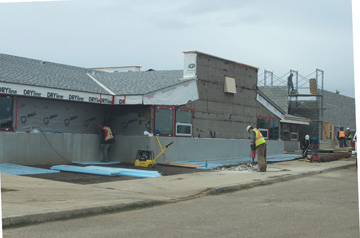 Commentator/Courier File Photo NEW LOOK: The Eagle Butte High School modernization project included a facelift of the front of the school as a component. The school's running track will get paved as well when the new septic ystem is installed.
By Justin Seward
Commentator/Courier
Eagle Butte High School's gravel running track will get a fresh layer of asphalt by end of the summer.
The project will coincide with the ongoing modernization at the school where a new septic system will have to be installed by the running track.
Prairie Rose School Division Superintendent Roger Clarke says the installation of the new septic system will cause some damage to the irrigation system and to the track itself.
"We thought while that is happening we might as well consider renovating this track to the degree of paving it and doing some upgrades to the grounds," said Clarke.
"Those things cost money and we have some money in the project to help with putting the grounds back together the way they were."
The area is "gopher ridden," according to Clarke
"It's hard to find a good space that kids can use. So you drive by Eagle Butte and you see this beautiful, big green space, but we don't get much usage of it because it's hard to do sports and athletics on a ground that is uneven and full of holes," he said.
The paving will connect to the trail that Cypress County built in 2017.
"What we're looking at is getting the county to work with us. It is a resource that is used by the hamlet and the residents that are there, as well as our students that come from all over Cypress County," he said.
Clarke anticipates doing the paving, sprinkler systems and the ground will be over $200,000.
PRSD did submit a funding request to Cypress County to pay 50 per cent up to $125,000 maximum for the track, a motion that county council passed at their May 20 meeting.