Foremost School celebrates grads with window posters, aims for summer ceremony
Posted on May 27, 2020 by 40 Mile Commentator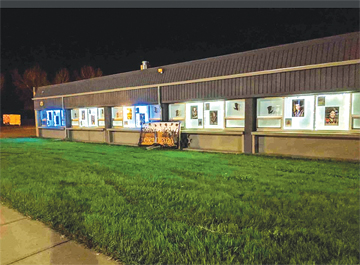 Foremost School Facebook page photo Foremost School celebrated its grads with window posters on Friday. May 22 was supppose to be their cap and gown ceremony.
By Justin Seward
Commentator/Courier
Foremost School held a decorative celebration for its 13 graduates on May 22.
Friday was supposed to be their cap and gown ceremony, but due to the COVID-19 restrictions that was not possible.
"What we did was on Friday, which was the original grad day, we got our cap and gown pictures (blown) up and made posters. We're going to just hang them in the windows of the school," said Angela Hazell, the school's grad advisor.
"It wasn't our original plan that we really wanted to do. But we didn't get the pictures in time to get the signs sent away and (get) back to us."
The original plan was to make up lawn signs with the grads photos on them.
"The grads were really disappointed we couldn't have a ceremony on Friday," she said.
There is still hope for a grad ceremony, as tentative plans have been made for Aug. 14.
"When we had to make the decision for when we should have grad, I didn't want to say we could do something in May, knowing that we probably were still going to have all the restrictions," she said. "We decided Aug. 14, either way, to have some sort of grad ceremony, depending what the health regulations are at the time. Whether we're going to do some sort of drive-in ceremony or maybe we could have a full outdoor ceremony by that time."
Hazell says she's hoping by August, her vision is to have an outdoor ceremony where they can do speeches, give out the diplomas and have their guest speaker.
"That's why we wanted to wait until August because we thought the further we waited, we could actually have more of what the traditional ceremony would look like," she said.
Hazell is determined to make something happen for this year's graduates on that date.
"I just feel like for me as their teacher and grad advisor, I will be doing something to recognize them on Aug. 14," she said.
Valedictorian Jenna Seefried gave her thoughts on what this year's class meant to her.
"This (past) Friday, May 22, would have been our high school graduation and our chance to look back on the past 13 years of memories and accomplishments," said Seefried.
"We not may not have the opportunity for a graduation, so I'd like to say a few thank yous. I'd like to thank my fellow graduates for all the memories created throughout the years. Many of these students have been in my class since Kindergarten.
"I'd also like to thank Foremost School as a whole. The teacher and staff's support throughout this difficult time has been greatly appreciated. We couldn't have done it without you."
Seefried says she hopes in the near future that her classmates will have the chance to get dressed up and cross the stage to receive their diplomas.
Hazell did go around to the grad's houses recently and did a segment called the "Falcon Files," where she asked them about what their favourite memories were from school and what are you looking forward to the most in the future.
Those clips can be viewed on the school's Facebook page.