HALO Fryday fundraiser taking place May 29
Posted on May 27, 2020 by 40 Mile Commentator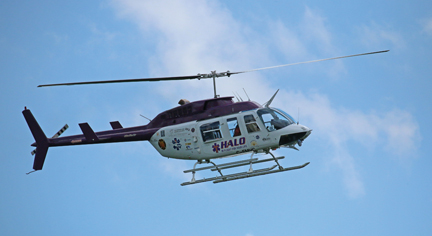 File photo
By Nikki Jamieson
Alberta Newspaper Group
Some local companies are partnering together to support HALO Air Ambulance this Fry Day.
In an event going this Friday, McCains Foods, Western Tractor and J.E.B. Transport have teamed up to give away around 7,500 bags of french fries at Western Tractor locations across southern Alberta in a Free Fry Day event, as a means to both help fundraise for HALO Air Ambulance and support Canadian potato farmers.
"We felt that there was a need for us to step out as a company that supports this region and do something that not only promoted the potato industry, and some education on why it's important, and why we need our consumers out there, consuming this product, even when out restaurants are shuttered at the moment," said Steven Dyck, president of Western Tractor. "A lot of families and a lot of jobs are on the line, not only on farming operations like the Perry Produce family has, but also in the plants that produce this potato product."
Overall, they hope to raise $100,000 for HALO.
"The connection to the farming and ranching community goes back to our very beginnings, and we've been on missions where we've gone to help in farming and ranching, doing what they love to do and have done in their families for years, so it's a natural fit ? we're here to help them when they need us, and right now, HALO needs them, and they're really stepping up," said Paul Carolan, CEO of HALO Air Ambulance. "We're so very, very humble and grateful, and without this sort of support, we would absolutely be looking at a big scale back on the program."
Earlier this month, HALO had put out a press release on their financial shape as the negative impacts of the COVID-19 pandemic decimated their ability to fundraise and was forcing them to scale back, and potentially shut, their operations unless they received significant help. HALO does not have a steady form of funding from the province, and most of their fundraising is event-based. While they just had their most successful fundraising year, their budget increased by 3.5 times with the addition of the twin-engine helicopter, although they have also increased their missions by five times, which Carolan says proves the "necessity for the twin-engine helicopter in this space".
"It was a hard decision to make that announcement. The board had worked very hard to come to that decision and to make that press realize in the first place. So this program means a lot to the people who have made it possible since 2007," said Carolan. "With HALO Challenge kicking off, it's trending on most social media channels, and then, now having the corporations jump on board, we're very very optimistic that we will find a way through this. We will always have to find a sustainable model, and that's where we need the government to come to the table. However, with the help of these companies ? McCain, Western Tractor and J.E.B. Transportion ?just this event alone will make it possible to keep the twin-engine (helicopter) online for even longer than we had planned."
The potato industry has hit hard by COVID-19, as restaurants have closed or are operating at reduced capacity, creating a surplus of potatoes. A French Fries Feed Farmers campaign has been launched nationally, and when Western Tractor reached out to McCains about a local initiative supporting HALO, they thought it was a great thing to be involved in.
"With the onset of COVID-19 an restaurants closing, that dropped the demand for french fires, and so we're out here to support our grower base, and help them," Jeremy Carter, senior field manager for McCain Foods Western Canada. "It's been fantastic to see this come together as quickly as it has."
A website has been launched that would allow people to make a donate, and they are appealing to local business to help out as well so they can reach their $100,000 goal.
"We've already started that campaign, and we've actually had a pretty good response already. It's going to take a bit of work over the next week to get to the finish line, but we feel confident that we can raise $100,000 for HALO in this next week," said Dyck.
You can get your free fries at Western Tractor's Medicine Hat location from 9 a.m- 10 a.m. and the Burdett store from 11 a.m.-12 p.m. on May 29.
For more information or to donate, visit https://www.westerntractorfreefryday.ca.