Albertans still encouraged to celebrate Seniors' Week safely
Posted on June 4, 2020 by 40 Mile Commentator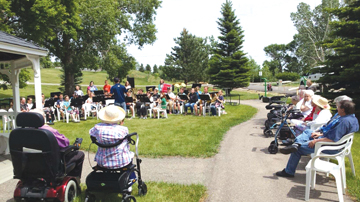 Alberta Newspaper Group File photo SENIORS MATTER: Albertans are encouraged to reach out to seniors in their lives by either virtual means or some other creative ways during Seniors Week.
By Justin Seward
Commentator/Courier
June 1-7 has been declared Seniors' Week in Alberta and residents are still encouraged to celebrate despite the ongoing COVID-19 pandemic.
"Seniors Week 2020 will, in some ways, be different than any other in the 34 years of this wonderful Alberta tradition," said the provincial government's Minsiter of Seniors and Housing Josephine Pon.
"Although COVID-19 will change the way we celebrate this year, it won't change the spirit of Seniors' Week. That spirit is as strong as ever and it is about recognizing and celebrating all that seniors have contributed to making our families, communities and province so much stronger."
Events such as barbeques, teas, parties and various other social event were celebrated at seniors lodges, centres and community halls in the past.
However, with the world health crisis, the annual events will not be a go this year due to the restriction on mass gatherings.
Pon wanted to remind Albertans to not let the COVID-19 pandemic impact people from celebrating Seniors' Week in fun, creative or innovative ways.
"A lot of us are leveraging technology to stay connected with family and friends during this challenging time. Don't be surprised if the senior in your family suggests hosting an event on Facetime, Zoom or other online platforms," she said.
She suggested to seniors to send fun videos with grandchildren dancing or singing a song, while there will be communities that will host parades with social distancing in effect that go by seniors' residences.
Picking up groceries, running errands and dropping by a seniors' home to mow the lawn count as well.
"It all matters," said Pon.
"Most importantly, check in with the seniors you know. Even if we can't all be together, let's make sure that all seniors feel valued by family, friends and Albertans."
Bow Island declared the first week of June Seniors' Week at its May 25 meeting.
While the town could not host its annual seniors pancake breakfast this year, Mayor Gordon Reynolds thinks seniors still need the recognition as they play a vital role in the community.
"(Seniors), for the most part are the builders of our community," he said.
"Many of them are parents and grandparents of people in the community or people that grew up in the community. They've helped build our community and get it to where it is now."
Reynolds says seniors are the most vulnerable in this pandemic and for those that are in long- term care or the (Pleasant View) Lodge, they've been locked down and haven't enjoyed the freedoms the rest of us have.
"We also at this time need to recognize and celebrate the people that have looked after our seniors and kept them safe," said Reynolds.
Bow Island's Pleasant View Lodge will have a few events planned throughout the week.
"(This) week we will have a barbeque (June 4)just with our Lodge residents," said Dixie-Lee Egan, Pleasant View Lodge events coordinator.
"In the lower level of the Lodge , we have 16 self -contained apartments and we also are going to make a meal for them and we're going to take it down for them. We'll still do our games within the Lodge."
The activities are a way of saying thank you to its residents.
"Our seniors built this country. They worked hard and it's our way to make them feel special and to give back," said Egan.
"They have done so much for us. We work here for a reason. We love our seniors. We love listening to their stories, hardships (and) sadness. It's very rewarding. It's our pleasure just to make their life, especially now, still important."
The town will supply cake and ice cream for the barbeque on June 4 and donuts to the Manor on June 2.
The Lodge had some pre- Seniors' Week excitement recently.
Two-people have been able to visit since Mother's Day, while staff have been organizing a lot Facetime sessions for the residents to talk to their families and taking them outside for walks around the property.
Charlie Miller and Kim Hodgson came by the Lodge last week with a wagon and horse team to sing Happy Birthday to the residents.
Birthdays are celebrated on the fourth Wednesday of each month.
Every Monday is games night but the numbers are limited to five as to who can participate and Thursdays are a reading of the history book.
The local fire department also had a drive-by parade.