Irvine teen hoping to Kickstart his newly developed video game
Posted on June 24, 2020 by 40 Mile Commentator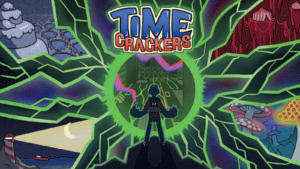 A FUN GAME: Time Crackers is a Nintendo Switch game designed by Irvine's Aaron Taylor, and it is currently seeking funding on Kickstart. Submitted photo
By Ryan McCracken
Alberta Newspaper Group
Aaron Taylor is hoping to rally the community behind his dream.
The 19-year-old lead video game developer from Irvine recently launched a Kickstarter for his upcoming 3D platformer Time Crackers ? a quirky comedy set in nine different open worlds ? and if all goes according to plan, you'll be able to play it on Nintendo Switch in November.
"It's a 3D platformer, based on Mario Sunshine and Banjo Kazooie, which are classic platformers from the late 90s and early 2000s," said Taylor, who has been building the game for the past three years through his development company Basement Dweller Games. "We chose Kickstarter because we're really looking for funding for our game and we want to avoid investors specifically, because they take away a lot of the creative control. The theming and humour in Time Crackers is very, very weird, so we want to have as much creative control as possible within the game."
The Kickstarter for Time Crackers has a set goal of $30,000, which Taylor says will be used primarily to upgrade and polish visual aspects of the game to prepare it for launch.
"Most of it is already complete, gameplay-wise and world design-wise, we just need the extra budget for visual aids," he said. "Right now the game is not shaded very well, there are a lot of visual things that can be upgraded, so we can hopefully get the game out in November of this year, exclusively on Nintendo Switch."
Taylor, a graduate of Eagle Butte High School, says he was 16 when he first got a taste of how game design worked, and he was immediately hooked by the concept. Just three years later, he's on the cusp of hitting the market.
"Designing games just became what I wanted to do in life as soon as that happened, because it just felt so rewarding," he said. "I've designed all of Time Crackers to this point, it took about two-and-a-half years and we're just trying to get it up to par now."
Taylor says he spent eight months writing a 50-page thesis on how to create a strong platformer, then started building a prototype before finally beginning the task of forming a development team.
"I wanted to have something physical that people could see, because I am dedicated to this game 100 per cent," said Taylor. "I wasn't going to build a team on just an idea."
The eight-person team includes one fellow Hat-area product in animator Ben Redecop, as well as seven other members from all over the world.
"Forming the team was basically me looking online for people that I could try to build a relationship with, to try and make sure I could trust them with development," said Taylor, adding he's been doing his best to keep his team compensated for their efforts through the money he makes from a job at Sobeys. "Since Time Crackers doesn't have any type of budget right now I've been using all my money from my job at Sobeys right now to pay my developers the best that I can, the most that I can, to get the game the budget I can do right now. But doing the Kickstarter would really help me get everyone paid on time until the game is out."
Time Crackers is shooting for a November release exclusively on the Nintendo Switch. Taylor says the console provides the best target demographic for the game, as well as a strong market for independent developers.
"The Switch has been one of the best consoles for indies right now, as well as Nintendo's brand and morals overall really just falling in suit with ours," he said. "They're very anti-crunch, they're very pro-industry in that sense and also the Switch's audience is really where Time Crackers suits most."
Time Crackers can be found on Kickstarter at kickstarter.com/projects/basementdwellergames/time-crackers-a-brand-new-3d-platformer.