Market in the Park is a go this summer
Posted on June 24, 2020 by 40 Mile Commentator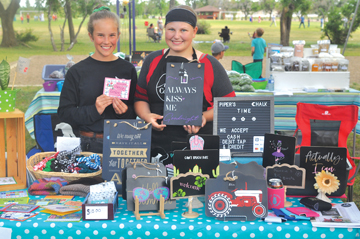 Commentator/Courier File photo Leigha Hansen and Piper Ell were a part of the Chalk Couture booth at the first Market in the Park of the summer at Centennial Park on July 3, 2019. The signs are homemade and made out of chalk paste. The committee decided recently the 2021 event will be a go with restrictions being followed.
By Justin Seward
Commentator/Courier
Bow Island's Market in the Park committee met last week and decided the sixth annual event will be a go this summer.
"We are going to go ahead on July 15 with a modified market," said Kathy Nixdorf, committee chairmen.
"We will have a vendor protocol. We plan on having masks for purchase if people want them. We are trying to get people to pre-book so that we can stay on top of things. We're going to be policing it to make sure people are following the protocol."
The committee suggests for people to bring their own lawn chairs, and as a part of the vendor protocol to have their own sanitizing areas and being mindful of how they handle their products.
"That might mean the products will be individually packaged," said Nixdorf.
There is the idea of featuring a local restaurant each Wednesday night.
"So far, I've spoken to one but I do plan to speak to the others," she said.
She encourages people that choose to have a picnic to pick one area and there might be the possibility of spreading the existing picnic tables further apart.
A corporate sponsor has been secured for the market's entertainment and the children's activity.
"We do plan to have entertainment," said Nixdorf.
"But we're going to have it featured in that area over by the bleachers. We may be marking off the bleachers if people want to sit thee so that they block off certain areas so that people are far enough part."
There was an entertainer of some sort every Wednesday last year and the committee is hoping for the same in 2020.
"We're hoping to carry through with that," she said.
"I just spoke to the individual that is headlining that. There maybe the odd time that they can't be there but we'll be reaching out to either FCSS to help us with something or Early Childhood Development."
The details for the fundraiser night in August have yet to be determined.
Nixdorf said on the importance of making the event possible in 2020 that, "It's truly a sense of community. It brings people out to something that they can just relax (at). They can support local vendors, home businesses."
Market in the Park will be every Wednesday from July 15 to Aug. 26 at Centennial Park (5 p.m.- 8 p.m.).