Redcliff woman paints gnomes to fundraise for local Humane Society
Posted on June 30, 2020 by 40 Mile Commentator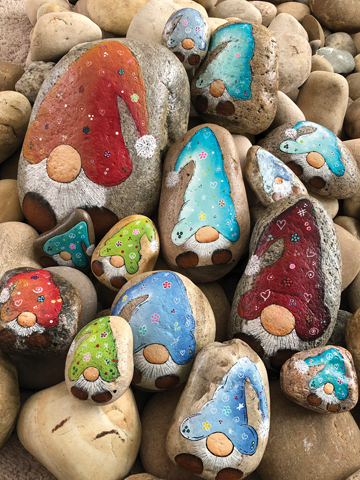 Photo submitted by Sue Bowers GNOMES SEEKING A HOME: The gnome-painted rocks for the Humane Society fundraiser.
By Justin Seward
Commentator/Courier
Sue Bowers is helping out the Southern Alberta Humane Society with her passion of painting rocks.
The Redcliff resident is painting rocks in the shape of gnomes upon request as a part of the Gnomes Need Homes fundraiser.
"I was just talking to a friend and the gnomes were popular at the end of the 2,020 (rock painting initiative)," said Bowers.
"I started painting these little gnomes. I was just scrubbing these rocks, getting ready to paint, and I was just thinking about the little kitties and puppies. I was thinking these gnomes need homes too and maybe people would be willing to donate, and take a gnome home with the kitties and puppies that need homes."
This type of fundraiser was chosen because the Southern Alberta Humane Society doesn't get government funding and just like any other rescue, they need money, she added.
In just over two weeks, the fundraiser is well over one-quarter of the way to its goal of $2,020.
She hopes the goal will be reached in three months.
A rock up to four inches is a minimum $7 donation to the humane society. Rocks that are four to six and a half inches will be a $10 donation. A rock that is six and a half inches to nine inches will be a $15 minimum donation.
The 2,020 theme started when Bowers took on a previous initiative in January with painting that amount of rocks and completing that feat by the end of the year.
However, she finished the project a little earlier than anticipated.
"I had this crazy idea of painting 2,020 rocks in the year 2020, never imagining that we would be confined to our houses and I would be able to accomplish that goal by end of May," she said.
The progress was documented through the 2020 Redcliff Rocks Facebook page.
When that 2,020 project wrapped up, an actual snakehead was painted and will be going to I.F. Cox School, where students will add rocks on to make the project grow.
"I did the head and the community will do the body, one rock at a time," she said.
Bowers can be reached through her Facebook page. She can also be contacted at (403) 580-9453.