St. Michael's School ends the year by celebrating its grads
Posted on June 30, 2020 by 40 Mile Commentator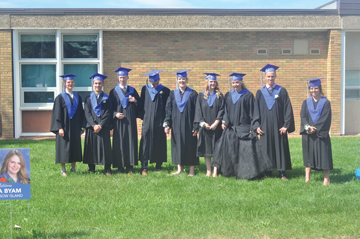 The 2020 St. Michael's graduating class.
By Justin Seward
Coommentator/Courier
Bow Island's St. Michael's School celebrated its nine 2020 graduates with a small outside cap and gown ceremony on June 26.
The ceremony included the graduates receiving an opening prayer from Fred Monk receiving their grad certificates from Principal Chris Sumner, provincial recognition certificates from Holy Spirit School Division Superintendent Ken Sampson and small gifts from both Bow Island Mayor Gordon Reynolds and local board of trustee Pat Bremner.
The students then stood at individual tables with parting grad gifts on them and waved at the line up of cars that honked in celebration in a drive- by parade.
"I think we're doing the best we can with what we've got and the teachers all came together to make this a surprise for us. The teachers and parents have definitely done the brunt of the work and we appreciate that," said Jared Van Es, who was the co-valedictorian with Olivia Van Tryp.
It was a natural fit for both students to be valedictorian.
"I'm glad that we both can have the opportunity to be valedictorian," said Van Es.
"I think Olivia and I have always kind of competed in academics and school in general."
He noted that the class started off as strangers and over time became really close friends.
"Having just nine of us was a great opportunity to get to know them better. I know each of them and I know each of their families," he said.
"I guess I'll always remember times like Halloween and things like that, when everyone is getting dressed up and having a good time together. That, and ASLC (Alberta Student Leadership Conference) and we all go off and have some fun at the hotel together."
He is planning to go to Langley, B.C.'s Trinity Western University to get a Biology Degree.
"It was an honour to share that title with him," said Van Tryp on sharing valedicatorian with Van Es.
"We've been competing, grades' wise, for years. It was just a good way of ending off our high school experiences. It's always good to have someone that pushes you to try harder, come up with new ideas, and to think differently. I think it helped both of us be better students."
She was really glad that a ceremony was made possible.
"Even in the altered form it was, I was pleased about that," she said.
"I'm really thankful to the staff and everyone who volunteered their time to organize that and set that up for us."
Her favourite memory with the class was the Europe trip in 2018.
She will be going to the University of Victoria to study Commerce next year.
The class went over to the Pleasant View Lodge to say hello to the residents from the outside because some students had grandparents in there and ended the day by going to the St. Michael's Church to receive a blessing from Father Ed.