Dunmore Equestrian Centre reopens its gates
Posted on July 8, 2020 by 40 Mile Commentator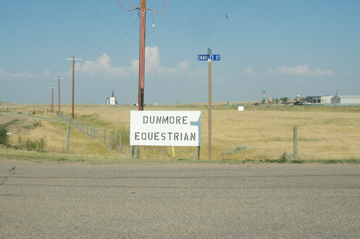 By Justin Seward
Commentator/Courier
The Dunmore Equestrian Centre reopened for riding rentals a week ago.
However, it did not come without its challenges right off the bat as the Saamis Barrel Racing Series cancelled its first few days of rides due to weather.
Other events such as the chore competition, the Little Britches Rodeo in September and the annual fall fundraising auction were all cancelled for this season too.
"We'll have to figure out to maybe do some sort of an online (event), if anybody can in the fall to cover our costs because over half of what we make on rentals will go to the people we hire to do the cleaning," said Cathy Schnell, Dunmore Equestrian Society board member.
Schnell said the Equestrian Centre is "all really happy to be open for sure."
While rentals will be down due to COVID-19 pandemic to help cover the costs of facility, the Equestrian Centre has applied for $40,000 loan that hopefully will be paid back next year with rentals.
"Basically we're using that to cover our land payment," she said.
"Other than that, I guess the little bit of rental we've got. We don't have a huge overhead at this time."
Schnell is looking to set up a legacy fund with the Community Futures of Southeastern Alberta and in the meantime will be applying for operating grants.
The Centre plans to have a gymkhana, (speed pattern racing and timed games for riders) family events on certain Fridays throughout the summer in place of the Little Britches Rodeo.
The Fridays have yet to be set.
It'll still give kids the chance to compete with their horses," said Schnell.
The Saamis Barrel Racing will resume every Monday night (5:30 p.m.), the South Eastern Prairie Team Ropers Association will be hosting sessions, an English jumping show, an Alberta Dressage Show, a Dunmore Horse Show and RK Productions Barrel Horse Futurity/Derby will all be hosted at the Dunmore Equestrian Centre this summer.
Times and dates for the events can be found at https://www.dunmoreequestrian.com/calendar.
There is COVID-19 protocol for renters on the website under 'The COVID Rental Rules.'
The Equestrian Centre was able to move up a phase because the facility was classified as an arena and outside arenas were able to move up.