Taber to Burdett twinning to break ground in 2021
Posted on July 8, 2020 by 40 Mile Commentator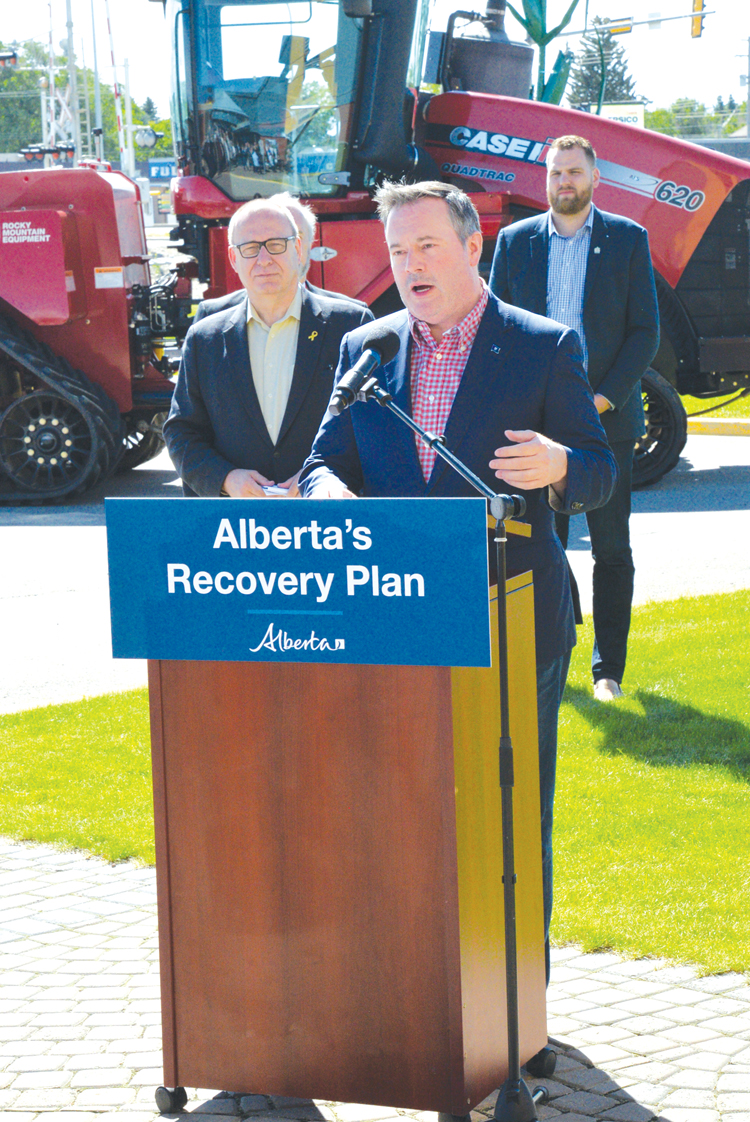 By Justin Seward
Commentator/Courier
People who live between Taber and Burdett got the long-awaited news on their part of Highway 3 being twinned on July 2.
Premier Jason Kenney was in Taber on Thursday to announce the $150 million Highway 3 twinning expansion project to the 46-kilometre stretch between Taber and Burdett.
"This project is part of our government's $10-billion economic recovery program. We need to build, diversify and create jobs following the largest financial hit in Alberta's history," said Kenney.
"These projects lay the foundation for the private sector to create thousands of well-paying jobs for workers while creating many spinoff benefits for Alberta, including making communities more attractive to businesses looking to relocate. A strong highway network is vital to create jobs, spur economic growth and get Alberta back on track to economic recovery."
The twinning project is expected to break ground in 2021 and create 755 jobs that will drive the economy and diversification in southern Alberta.
Bow Island Mayor Gordon Reynolds is the vice president of the Highway 3 Twinning Development Association and he could not be more thrilled about what the highway improvements will mean when the project is completed.
"The two big issues for towns along the Highway 3 corridor for years has been safety and the importance of what the transportation corridor can do for our economic development," said Reynolds.
"We, over the many years, have lost people, people injured, and I appreciated that Minister (local MLA Grant) Hunter in his remarks made reference to the families of people who have lost loved ones on the highway. The way he put is 'This is getting done in their honor.' We know that twinning doesn't totally eliminate accidents. But it's certainly going to help, especially in bad weather and especially when we have some big loads going up and down the highway."
"This is a big deal. This is a big first step. You know for them to do 46-kilometres is quite significant."
Reynolds says that's still leaves couple-hundred kilometres to be done.
"We told the premier and the transportation minister,   'We're not done pestering you, but we know that'll take some time,'" said Reynolds.
"The agri-business sector is a key part of Alberta's economic recovery. That's why we are investing in critical infrastructure that creates jobs now and ensures that we can support the growth of this important sector. Twinning Highway 3 makes the roads safer, more efficient, and gets Albertans working when jobs are needed most," said Ric McIver, Minister of Transportation.
Hunter sees the project as a way to expand on being the agri-food hub of Canada.
"The twinning of Highway 3, between Taber and Burdett, will not only increase safety in the movement of goods, services and people but it will also be a major infrastructure tool in helping establish this busy corridor as the agri-food hub of Canada," said Hunter.
The project is expected to last three years.
In addition to twinning, there will be key intersection improvements, in particular the Highway 877 intersection at Grassy Lake.
Other projects included in the $10-billion infrastructure Alberta Recovery Plan are $6.9 billion Budget 2020 capital spending, $980 million accelerated for Capital Maintenance and Renewal, $150 million for the Strategic Transportation Infrastructure Program and water infrastructure projects, $600 million in strategic infrastructure projects, $500 million in municipal infrastructure and $1.5 billion for Keystone XL.