Meals on Wheels staying steady through pandemic
Posted on July 22, 2020 by 40 Mile Commentator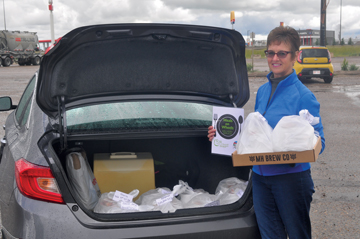 Commentator/Courier Photo by Justin Seward Meals on Wheels driver Sharon Sherven has been busy during the COVID-19 pandemic.
By Justin Seward
Commentator/Courier
Redcliff's Meals on Wheels program has created a safe approach for seniors to receive their meals during the COVID-19 pandemic.
"Due to COVID-19, the Government of Canada provided municipalities with funds to help provide meals to seniors. This has encouraged seniors to remain safely in their homes during the pandemic. We have had many more clients sign up to receive meals during this time," said Carla Spampinato, The Town of Redcliff's FCSS (Family and Community Support Services) coordinator.
The program sees meals made by Trukkers and delivered by volunteer drivers Monday to Friday.
However, drivers have had to take their own precautions when delivering.
"We hand sanitize before and after each meal delivery, meals are now delivered in disposable bags instead of reusable thermal containers, and we now place the meal inside of the clients door instead of bringing it all the way into the kitchen," said Spampinato.
The program is available to adults of any age for either the short term or the long term, if they meet one of the following criteria: convalescing from a hospital stay, chronic memory impairment, having difficulty preparing nutritious meals and a recent bereavement or loss with no support system.
"The program is intended to help Redcliff residents stay in their homes a little bit longer. Having nutritious meals delivered every day could keep clients out of care facilities, to allow clients to remain independent and give some relief to family and friends," she said.
Sharon Sherven has been a driver for the program for six months.
"The clients are pleased that we're being cautious as well because a lot them have critical conditions," she said of the safety measures taken during the pandemic.
"They don't want to be exposed to COVID as well. It's working good both ways."
With the town receiving the United Way funding for the program that "Our Meals on Wheels has picked up quite a bit during COVID."
"We're delivering six to seven more meals per day. We usually have about 13 and now we're delivering anywhere from 15 to 20."
There are seven drivers in Redcliff.
Clients can access the application on the town's webpage (Redcliff.ca) or by calling FCSS at (403) 548-3232 where application can be emailed, picked or dropped off.