Phase 1 of Whitla Wind Farm in full-operation, as new phases emerge
Posted on July 22, 2020 by 40 Mile Commentator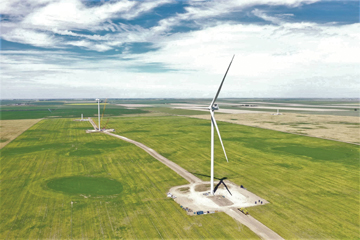 By Stan Ashbee
Alberta Newspaper Group
On Dec. 1, 2019, Whitla Wind 1 — located in the County of Forty Mile — began commercial operations. Construction of the facility began in September 2018 and was completed "on schedule" and "on budget" within its $315 million to $325 million target, it was stated on the Capital Power website.
In December 2017, Whitla Wind 1 was one of four successful wind projects that was awarded a 20-year contract by the AESO in the first round of the Renewable Electricity Program — which attracted global competition.
At the end of 2019, Capital Power announced the development of Whitla Wind 2. The 97-MW facility is expected in 2021.
Whitla Wind 1 advances our disciplined growth strategy, as we continue to expand our renewable energy portfolio — which supports our long-term vision for sustainability and green energy sources," stated Capital Power President Brian Vaasjo, on the company's website.
Whitla is actually three phases of a project located in the Bow Island and Foremost area in the County of Forty Mile, said Jerry Bellikka, director of government relations Canada for Capital Power. "When it's done, it will be the largest wind project in Alberta at 354-MW."
"The first phase, Whitla 1, we've already constructed and we built last year and it is in full-operation now. It's a little over 201-MW," Bellikka explained. "Whitla 2 has been approved, but we are applying to extend the deadline to the end of next year, rather than the end of this year. We are going to build Whitla 3 at the same time."
Bellikka said the County of Forty Mile is not a fiscal partner on the project, but the county has been a very good community partner to work with. Over the life of all three phases of the project the county will receive tax revenue going out past the next 20 years.
According to Bellikka, the first phase is virtually complete. "We just have a little bit of reclamation left. When we build a wind farm, it's all on private land, so we have lease agreements with landowners. In order to put the turbine on their property, we have to build an access road from the county road to where we want the turbine on their property."
Once a turbine is up and the foundations are in, the roads used need to be reclaimed and re-worked on. "We're going through that process now," said Bellikka.
Roads also need to be built for Whitla 2 — this process will allow for equipment to be moved to the new location.
"We've got some work to do on some roads and we're working with the county to get that done this fall," Bellikka pointed out.