Brower ready to have her say at Education Minister's Youth Council table
Posted on July 30, 2020 by 40 Mile Commentator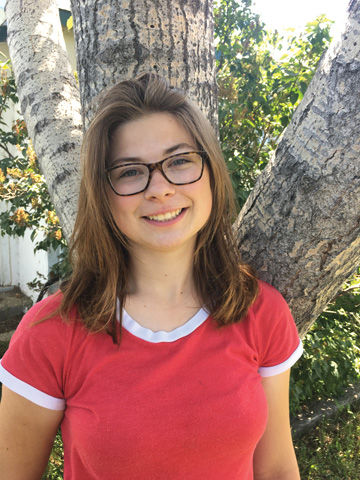 Photo submitted by Linsey Brower Foremost high school student Linsey Brower was one of 41 Alberta junior and senior high school students selected to participate in the 2020-21 Minister's Youth Council. She will raise her issues and concerns about rural education with the group.
By Jamie Rieger
Alberta Newspaper Group
Aden's Linsey Brower did not whisper a word when she made the decision to apply for a position on the 2020-21 Minister's Youth Council, not even her parents.
She quietly filled out the application form, submitted it, and learned recently that she was one of 41 students from across Alberta to be selected.
"I'm super excited. I didn't tell anybody that I applied, so this was a surprise for every one," said Brower.
Brower decided to apply for the role because of her passion for education, particularly rural education.
"At rural schools we have limited course options and we have to take some through distance learning. At rural schools everything is about distance," she said. "I take charge when I have an issue rather than sit back and not do anything. I am very passionate about education, especially rural education and I hope to get my education opinions heard."
The 41 junior and senior high school students from across the province to make up the 2020-21 Minister's Youth Council. The students come from all regions of the province, with a wide variety of interests, backgrounds and perspectives. Applicants were asked questions in the application about community, their perspectives, leadership skills, and their passions.
"I am passionate about education and we need to go back to the basics and not have so many extras. I took Chemistry 20 in Grade 10 through distance learning. Otherwise, I would have had to take a course on the History of Rock and Roll. We have courses like Entrepreneurship and we need more focus on subjects we will be able to use after we graduate," said Brower, who has aspirations of taking Optometry at Pacific University at Forest Grove in Oregon.
Over the course of the school year, they will participate in three meetings which will be held in Edmonton depending on what COVID-19 restrictions are in place at the time. If the meetings can not be held in-person, they will be video-conference on Zoom. The first meeting is slated to take place Oct. 2-5.
As part of the youth council, Brower will share her perspectives and opinions and hear those of the other members of the council about education programming in Alberta. In Brower's case, she will be sharing her thoughts about rural education. Through these discussions, they will gather a greater understanding of diverse opinions and will improve upon their dialogue and negotiation skills, skills that will help prepare them for their future endeavours. Youth council members will also learn about the governance of Alberta's education system.
Through their involvement, they will improve their leadership, critical thinking, and problem-solving skills, as well as knowledge application and have an active role in driving change. These are all things Brower is ready to sink her teeth into.
"I am super excited to be able to have my voice heard," she said.