Pickleball swings into Bow Island
Posted on July 30, 2020 by 40 Mile Commentator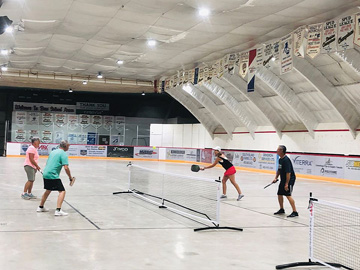 Town of Bow Island Facebook page photo
By Justin Seward
Commentator/Courier
While recreation opportunities may be limited due to the COVID-19 pandemic this summer, the Town of Bow Island decided to introduce pickleball a couple weeks ago for players young and old.
Pickleball is a paddleball sport that combines components of tennis, badminton and table tennis together.
Local pickleball organizer, Lowell Leffler, says between a few local players playing down south in the winter, seeing the game grow down there and cutting down on travel time to Medicine Hat to play factored in to starting a program in town.
"Basically the only other option we had right now was Medicine Hat or Lethbridge," he said.
"And because there's quite a few of us that play down in the states when we go in the winter time, we just thought this would be great, and the arena isn't being used in the summer time. It was a perfect fit. We'll be able to stay there until they put the ice in at the end of September."
Pickleball discussions began between Leffler and Tina Mcilmoyl of the town earlier this year and that once he arrived back from Arizona that he wanted to get the sport off the ground and running.
However, it wasn't until earlier this month that talks commenced again on making the sport possible in town.
"She said she didn't have a clue where to get nets or any of that kind of stuff," said Leffler.
"So I gave her that information. But then that (COVID-19 pandemic) all hit , so everything is on the back burner and it wasn't until things opened up here July 1 really, that's when they went to Stage 2 with Alberta Health. They said then we could start playing pickleball and so that's when we got it going."
His goal for pickleball in Bow Island is to have as many people out to learn the game and give locals something to do.
"We're looking into (the) arena , we could actually get six courts in there if we really had to," he said.
"We just put in two for now because we didn't know how many we would be getting. But if we can get six courts going that'd be amazing. We've also realized when winter comes we're going to be limited."
Leffler is looking at the Multiplex as potential winter location for games.
Pickleball games are open to anyone.
"We just had two young ladies that came who are 17 and 19," said Leffler.
"They (also too) played badminton and they picked it up. They were very good. We got all the way up to people in their mid-70's."
Leffler said when they have somebody new come in, he will spend time with them teaching the rules and by the end of the two hours, those players get a grasp of the sport.
"It's important," said Mcilmoyl on the new recreation opportunity for the town.
"I think (there is) going to be a lot of interest in town. If we have plenty of members then we'll probably expand it to next summer. We can probably fit a couple of more courts easily into the arena. Physical activity is a big thing that everybody should be trying to do."
Safety protocols such as bleaching the balls in between games and hand sanitizer have been implemented and everyone will be provided equipment.
Games began earlier this month and will run until the end of September on Mondays, Wednesdays and Thursdays from 9 a.m. to 11 a.m. and Fridays from 7 p.m. to 9 p.m. at the Servus Community Arena.
Memberships are $30 and can be paid at the town office.
Paddles and balls are included.
More information can be found on the Bow Island Pickle Ballers Facebook page.