County fire chief warns public to be vigilant as drier conditions remain consistent
Posted on August 5, 2020 by 40 Mile Commentator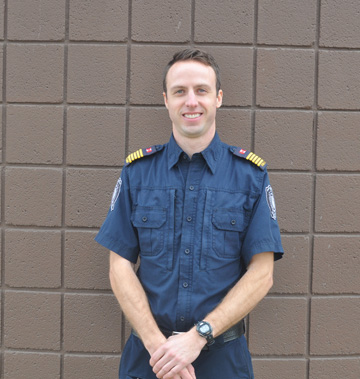 Commentator/Courier File Photo County of Forty Mile fire chief Dustin McGarry wants the public to be more vigilant as condition become dryer.
By Justin Seward
Commentator/Courier
The County of Forty Mile has a fire advisory in effect as the county fire departments have seen increased fire hazards.
The reason for the increased fire hazard has been a result of the grass drying, precipitation dwindling and increase of heat, explained Dustin McGarry, county fire chief.
"The ease of ignition is increasing," said McGarry.
"It's definitely drying rapidly. The precipitation we did have, presented us with a fair amount of fuel, meaning grass throughout the county. Now that large amount of grass that we have is starting to dry out, which may pose some additional challenges when firefighting in those areas."
McGarry wants the public to be vigilant when having a backyard fire or when obtaining a burning permit and for people to have the proper fire suppression tools on hand.
"We're just asking the residents to be cautious right now," he said.
Meanwhile, McGarry estimates the call volume to be down 50 per cent of normal since the COVID-19 pandemic started.
"Up until the middle of July, call volume has been fairly low," he said.
"(It has) given the fire department time to focus on training and getting all of the newer members and (current) members up to speed on training and equipment. It has been a nice break for the volunteers."
Multiple local fire departments and residents responded to the county's first wildfire of the season on July 22, which was 17 acres in size.
"That was our first wildfire of the season, which we've been very fortunate not to have wildfires up until then," he said.
On July 30, firefighters responded to truck fire, which resulted in a grass fire and another truck fire a couple weeks ago was attended to as well.
"We're asking residents if you're going to go out in the field to grass with any vehicle, whether it'd be a truck or a ATV, just to make sure that you clean that grass out from under your vehicle as that can cause fires," said McGarry.
Other common calls in the last few months have been for motor vehicle and medical assistance.
With the forecast being hot for the foreseeable future, McGarry said the fire departments are well prepared and adequately staffed in case of more wildfires occurring.
The fire department did not lose any members during the pandemic as the total remains at 94 volunteer firefighters.
Practices were suspended in March until June 1, but are now back in full swing.