Hughson hosts a breakaway and tie down school for young riders
Posted on August 5, 2020 by 40 Mile Commentator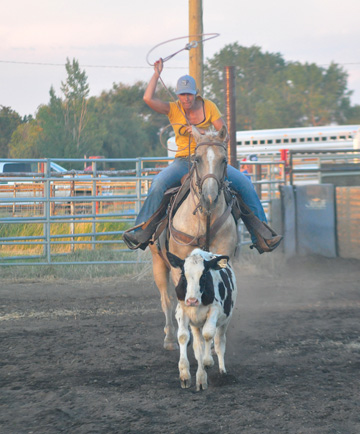 Michelle Cowie makes an attempt to rope down the calf.
By Justin Seward
Commentator/Courier
Local calf roper Clark Hughson was at the Foremost Rodeo Grounds on July 28-29 to teach 15 young riders about the basic skills of break away and tie down roping.
The six-time Canadian Finals Rodeo qualifier said it was important to host an event for the kids because it was chance to teach them how to rope.
"I'm very happy with the interest and kids are wanting to rope," said Hughson.
"I'm doing my part to help out and it's good to see."
Hughson taught the kids about handling their ropes properly, riding their horse and working on the basics.
"You've got to handle your rope really well and ride your horses," he said.
"The kids are pretty much beginners mostly. There's one kid that's roped quite a bit."
He says a lot of practice and repetition is key to being a successful roper.
"I've seen a ton of improvement. Everybody has improved a lot. It's been good to see a good bunch of kids. It's been a great couple of days."
While Hughson realizes the instruction part can be an overload, if riders can take two to three things home to practice that is the goal.
Makenna Ormann says it was fun to do an event during the COVID-19 pandemic.
"Clark's been somebody I've always looked up to for roping advice," said Ormann.
"It was awesome for him to put it on here. He's always on top of things. He really helps with horsemanship and for people to start getting their steps down for every little thing."
She learned over the two days about her location of her loop and has the horse behind the calf more because her horse Spice likes to drift.