Bitter Water Rescue Ranch ready to host Open Farm Days attendees
Posted on August 12, 2020 by 40 Mile Commentator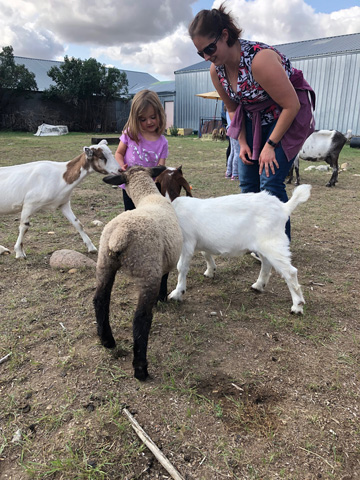 Commentator/Courier File Photo Elise Hildebrandt pets the goats with her mom during the Alberta Open Farm Days event at the Bitter Water Rescue Ranch in 2019. The Ranch will host for a second consecutive year on Saturday.
By Justin Seward
Commentator/Courier
The Bitter Water Rescue Ranch is ready to host Open Farm Days for the second consecutive year this weekend.
The Ranch is located 10 minutes south of Medicine Hat on the Black and White Trail and focuses on taking in abused llamas, alpacas and other livestock animals to rehab them before trying to find them a new home.
"We try to retrain to rehome. But a lot of times, especially the llamas, will come to us with behavior issues that they may not necessarily be eligible for a new home," said Melissa Lanz, Ranch owner.
"We basically have to care for them for the rest of their natural lives."
Lanz says it is important to note when caring for llamas and alpacas that it involves patience, love and time.
"One method might work for one animal, but it's not going to work for the next animal showing the same symptoms, she said.
"We used a lot of patience, natural homeopathic remedies as well as veterinarian care. No one idea is off the table."
The support in the 2019 Open Farm Days is why the Ranch decided to return in 2020.
"We just couldn't believe it," said Lanz.
"We had so much fun with people, with their questions (and) getting to see the animals up close for the first time. It was just so amazing. I was like 'I have to do it another year' because it was just so awesome."
There will be a couple of new additions this year.
"We're trying to make it as interactive, if not more interactive as possible, and we're going to be hosting a few different animals that we have this year, that we didn't have last year," said Lanz.
The hope is to have the Ranch's three-month-old potbelly pig on display that is going to be up for adoption in a month's time.
Another new addition to this year's event could be Sebastopol geese.
COVID-19 safety protocols include: hand sanitizer being available for the beginning and end of the tour, limiting the amount of people in the pen with the animals to 15 people at a time and two people in the gift shop.
Activities will be ongoing outside the pen as they wait to enter.
"Because this is through Open Farms Day, we have to limit the public to 100 people an hour or less," said Lanz.
People will have register for a tour beforehand by sending Lanz a text message at (403) 952-6333 or through sending a message to the Bitter Water Rescue Ranch Facebook page.
The tours are free and will be open from 9 a.m. to 4 p.m. for Open Farm Days on Aug. 15.
The address is 5323 Township Road 114 in Cypress County.
Alberta Open Farm Days is an annual two-day event that gives provincial residence to experience farms and gain an understanding where food comes from.