Foremost Agriculture Centre business plan near completion, committee looks to local events for exposure
Posted on August 12, 2020 by 40 Mile Commentator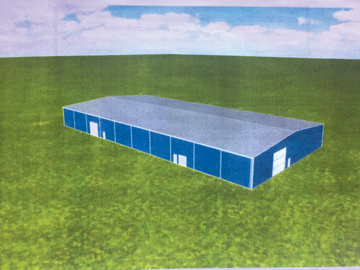 Photo submitted by Steven Hofer A sketch of the proposed Foremost indoor riding arena.
By Justin Seward
C0mmentator/Courier
The Foremost Ag Society in conjunction with the Foremost Agriculture Centre committee, are working on exposing more local agricultural events as well as working on the business plan in hopes of breaking ground on the proposed indoor riding arena within the next couple of years.
The project has $80,000 raised between various fundraisers and private donations.
"I would like to have $500,000 in the bank to be able to start applying for grants," said Stacey Barrows, Foremost Ag Society treasurer.
"Hopefully some of that is matched grants. It shows you've got enough there, that they say 'Yes the project is feasible.'"
The Hougen family donated the 15-acre land that is located three kilometres south of the village.
"With having the land , that's a huge asset. It's about $300,000 we're saving, getting the land donated," said Barrows.
The business plan is expected to be complete in the next couple of months.
The plan will include a budget, where the project is at in a certain phase and gathering support letters from potential user groups.
"I'm still working in the final details like where are we going to get our water from and stuff like that," said Barrows.
"We've got it about half done. One of the big things too is I would like to see a five-year plan once the building is built. It's easy to put the building up, but you've got to know how it's going to run."
Barrows says a feasibility study for a small community costs $80,000 to $100,000.
"That's a lot of money to come up with on top of our funds already," she said.
"So by putting on more events and doing as much as we can do, it gets the community seeing that a building might be feasible if we can do this much in the summer time."
She confirmed there has not been a lot of further discussion on the project lately due to COVID-19.
However, there have been mentions of maybe doing some sort of a low-scale fundraising event in the fall.
Steve Hofer, head of the Agriculture Centre board, says when they put on their first junior bull riding event, local people sponsored it and that is how the project started receiving money.
"We made a significant amount of money, so we're like 'Oh these people are serious about this,'" said Hofer.
"That's what we do. We put on events, raise awareness."
The use of the Rodeo Grounds recently has been important in the exposure process.
The Ag Society sponsored both a barrel racing jackpot on July 24 and a bull-riding jackpot on July 25, which brought in some donations for the proposed Agriculture Centre.
Hosting events such as the jackpots or Clark Hughson coming to host a breakaway and roping school in late July, allows for teaching rodeo skills to young riders and shows local people want to step up.
"It's coming," said Barrows.
"People are realizing all the different things we can do on a small scale. And these small-scale things are stuff we can do in the winter time arena as well. We could do team roping jack pots in the winter. You can still do your roping school as well. We would like to do some barrel racing clinics. There's so much interest in the young kids in the community."
Additionally, the Ag Society members host Club Days on Thursday nights.
"You've got to be a Foremost Ag Society member and then you have to be invited from an Ag Society member to come here. But with COVID-19 this year, we made sure we know who and where these people are from," said Hofer.
Bull riding, bronc riding, tie down roping and barrel racing can be seen all in one night.
Event Sponsors are invited to come out and watch the riders
"We want to have it so this facility (is) for school projects, like if they want use it to have a school event, a cattle sale or an auction sale," said Hofer.
"We need this building-there is people here from out of town-to come here and spend the weekend and use these facilities. It keeps our town rolling. That's the idea behind these people coming here and folks putting on these events, in making sure these young men and ladies have a chance to grow. This is a pretty nice town, we want people to come here."
Local 4-H clubs and agricultural societies could also utilize the facility.
The project is in the third year of a five-year plan.