Halo to participate in a Whitla Wind farm emergency training exercise
Posted on August 20, 2020 by 40 Mile Commentator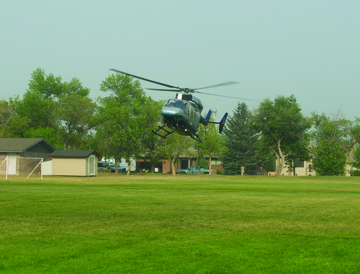 Commentator/Courier HALO's BK-117.
By Justin Seward
Commentator/Courier
HALO Air Ambulance will be involved in a comprehensive emergency training exercise at the Whitla Wind 1 facility on Aug. 26.
HALO will be participating in the exercise along with the County of Forty Mile Fire Department, Vestas, Capital Power, Bow Island Fire Department, Bow Island RCMP and Alberta Health Services.
A simulated exercise will see an onsite emergency occur, where there will be an activation of a multi-agency response.
"Training is a critical component of our OH&S and Emergency Response Plan programs. This simulated emergency has taken months to plan and organize, it gives our employees an opportunity to put their training into practice in a real-world environment." said Dylan Yanke, Vestas QSE Lead.
Yanke says emergency response in a rural environment can be complicated.
"Our area of responsibility includes 56 wind turbine locations, each with their own access, and by including our local emergency service partners, we provide them with an opportunity to evaluate their response, while providing our onsite technicians a sense of what is involved in an emergency. HALO is a vital part of that plan and we wanted to include them from the beginning," said Yanke.
Halo's focus is on high priority for training.
The medevac helicopter works with multiple agencies across southern Alberta to conduct reviews of the best safety practices and making sure emergency service partners are proficient helicopter landing operations.
"Safety is a fundamental part of the HALO Program, it is one of our core values, each year we place a priority on training and make sure everyone is prepared to work with the helicopter." said Paul Carolan, CEO HALO Air Ambulance.
The County of Forty Mile is included in HALO's response area.
"We work with some of the best first responders in the world, when Vestas asked us to participate in an emergency exercise involving a multi-agency response, we didn't hesitate." said Carolan.