Two Hatters host a convoy for Walsh assault victims
Posted on August 20, 2020 by 40 Mile Commentator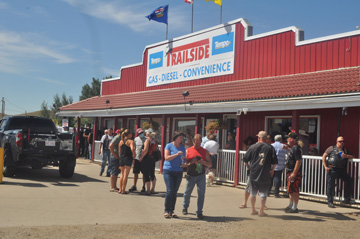 Commentator/Courier Photo SHOWING SUPPORT: Groups of people gathered outside of Walsh's Trailside Tempo gas bar in Walsh.
By Justin Seward
Commentator/Courier
When two Medicine Hat men found out what happened to Walsh's Trailside Tempo gas bar owner, Geoff Shoesmith, and his family on Aug. 8-9, it was within a couple days last week a convoy was put together in support of the assault victims on Aug. 15.
The convoy comes after Redcliff RCMP charged neighbouring Save On Gas owner Anwar Kamaran with one count of assault and two counts of assault causing bodily harm following a series altercations on the Aug. 8-9 weekend.
"Shawn and I were just chatting on Facebook and we were talking about what we had seen on the video," said Mark Childs, co-host of the convoy with Shawn Benz.
"We said 'it would be cool to do something for support because it made us both sick to our stomach,' to watch what unfolded through the security camera footage. A simple idea like this turned into event like this and it's just blown my expectations away."
Hundreds of people on motorcycles and in vehicles did the rally from Medicine Hat's Walmart parking lot to the gas bar.
"I just put it on Facebook, shared it, I had a good group of friends that shared it, news outlets got a hold of it and it snowballed from there into a bigger thing," said Childs.
"We've had people join in on route to here and we had people stop in the Walmart parking lot and ask us what was going on and joined in from the start."
Dale Oster rode in the rally along with many other motorcycle riders.
"I found out about it on Facebook and plus as soon as it gets around to the other bikers, everybody phones and says 'Hey do you want to do this, do you want to do that?' and (it) just built up from there," said Oster.
"Now you know what's going on. A lot of people didn't know what was going on before about this. It's nice to know people are behind them, wanting to support him and help him out in the situation he is in."
"My heart goes out to the family and it's a sad, sad situation that it had to come down to that," said Kathy Pollock.
"It doesn't make sense to me. We came with five or six other people and just kind of joined in. I know a few bikers that are out here supporting. It's all a good cause."
While, Shoesmith was not expecting the rally to be that big, the family was happy to see everyone out at the gas bar in support.
"It's overwhelming," said Shoesmith.
"Good to see the support."
Proceeds from the gas station's café were going to HALO.
Kamaran was also facing three counts of failing to comply with an undertaking condition.
He was held in custody from Aug.9-12, at such time he appeared in Medicine Hat Provincial Court and released on several conditions.
Those conditions included no contact with the victims and not to appear in the Village of Walsh unless it's under a court-ordered circumstance.
The former Cypress-Medicine Hat Liberal MLA candidate's next court appearance in Medicine Hat is scheduled for Sept. 16.