Diamond Sun Farms ready to serve southern Alberta
Posted on August 26, 2020 by 40 Mile Commentator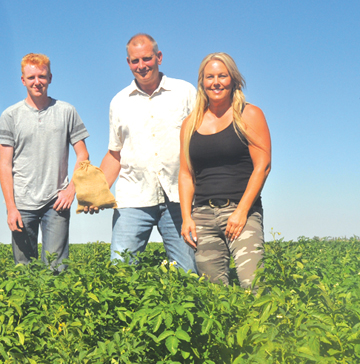 Diamond Sun Farms' co-partners Brenden and Allen Kuizenga and director of sales and marketing Nicole Bos are hoping to support local as much as possible in the southern Alberta region.
By Justin Seward
Commentator/Courier
Allen Kuizenga had finally seen an idea come to fruition after 10 years of discussion in July.
He was able to establish Diamond Sun Farms south of Burdett where the operation started by planting four types of potatoes including red, yellow, Diamond Baker and Russet Burbank this year.
"The potatoes, we have enough to supply quite a few restaurants already and people," said Kuizenga.
There is 12,000 tons of potatoes for French-fries over 30 acres, he added.
Those potatoes are garnered towards the French fry market.
The farm was able to purchase and sell garlic from a nearby farm for this year.
The plan is to multiply the garlic seeds over 10 acres in 2021.
"You always wonder if it's the right time," said Kuizenga.
"I think with COVID now, and with the price of groceries in the stores going through the roof for no apparent reason and people wanting to jump on the locally-produced bandwagon, now is a perfect time to do it. People can't drive as far any more, so that we can deliver."
Kuizenga added the farm-to-table concept-which is a social movement that promotes serving local food through direct acquisition from producer- is wonderful.
"With the rural population getting so small now and everybody moving into cities, nobody knows anymore where the food comes from, what happens to it in the process from planting to harvest to delivery to the consumer," said Kuizenga.
"The farm to table makes it more transparent for it."
He focused on the potatoes because it's a crop he knows.
"With the staff I have, that's what they're good at," he said.
"With our main hired man, that's what he knows, (and) longer than I have. Our agronomist is top notch and it's all to create healthy foods. We import so many potatoes from the States, and let's support local. If everybody were to do that, you could reduce the carbon footprint so much. That's something that fell behind the scenes with COVID.
"Let's not forget yet all this useless freight back and forth, and for thousands of miles, (and) where southern Alberta has the perfect conditions for growing crops, that are even grown in California."
With a combination of smaller farmers not able to afford the high price county land and the margins getting tighter, creativity has to come into play for expansion.
"We have to come up with creative ways to stay feasible and this is one of them," said Kuizenga.
Kuizenga said, "We very much believe in giving back to the community."
Diamond Sun Farms is planning on expanding their product line next year.
"The product that is going to go out to the consumer directly is from Diamond Sun Farms," he said.
Diamond Sun Farms is a spin off of Kuizenga Farms and will be the food division component.
Kuizenga Farms will raise the crop and sell the product to Diamond Sun Farms, he added.
The Kuizenga family farming goes back to 1963 when his parents bought their first quarter of land in the County of Forty Mile.
Kuizenga Farms was incorporated in 1980 and it was in 2004 that Allen and wife Alana bought the farm.
The crops grown on their farm are wheat, seed canola, lentils and durum.