Dunmore intersection to break ground in early September
Posted on August 26, 2020 by 40 Mile Commentator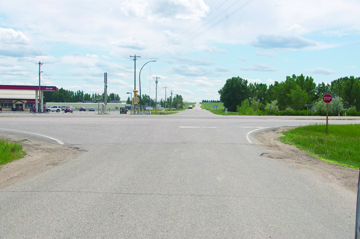 Commentator/Courier File Photo FINALLY STARTING: The Highway 1, Charles Street and Eagle Butte Road intersection is expected to start at the beginning of September.
By Justin Seward
Commentator/Courier
The notorious Charles Street, Eagle Butte Road and Trans-Canada Highway intersection in Dunmore will finally see the ground breaking in the first week of September.
"In 10 to 14 days, that's when they (Aecon Transportation) plan on breaking ground," said Kim Dalton, Cypress County's director of public works.
"They're doing some turning lanes. We're reconfiguring some of the intersections."
Dalton says Aecon will not be closing down the intersection, as there will be flaggers on site.
"There won't be any detours," he said.
One-lane closures will be what drivers have to be aware of.
Council voted back in November 2019 to go with Option 2, which includes the traffic signal and illumination, southwest radius improvement, southeast widening and improvements, northeast radius improvements, northwest radius improvement, a widen median opening and westbound lane widening.
The Memorandum of Understanding will see a 50 per cent maximum from Alberta Transportation of $700,000, which was an increase of $300,000 after it was decided at the July 21 council meeting that LED lighting will be installed.
Cypress County will contribute the remaining funding to the $1,425,392.85 project.
In Dalton's July update to county council, the project was supposed to start at the end of last month, but due to COVID, there were delays in getting materials for the project,
"We're actually waiting for a few more items to come in," said Dalton.