Medicine Hat to get a drug treatment court
Posted on August 26, 2020 by 40 Mile Commentator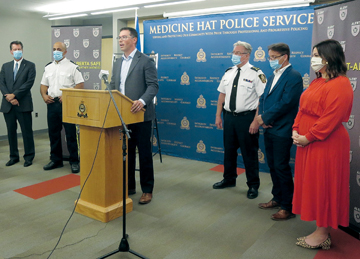 Alberta Newspaper Group photo by Gillian Slade DRUG COURT: In Medicine Hat on Aug.18, Doug Schweitzer, minister of justice and solicitor general, announces a drug treatment court to be opened later this year in Medicine Hat. On the right of the photo are: police chief Andy McGrogan, Cypress-Medicine Hat MLA Drew Barnes and Brooks-Medicine Hat MLA Michaela Glasgo.
By Justin Seward
Alberta Newspaper Group
Alberta's Minister of Justice and Solicitor General Doug Schweitzer was in Medicine Hat on Aug. 18 to announce that the Gas City would be a new location for a drug treatment court later this year.
The treatment court will help support addiction treatment and recovery and provide increased support for law enforcement with drug-related crime in southeastern Alberta.
"We have had many applications from individuals from the Medicine Hat area that applied to the Calgary (drug treatment court) to become members," said Schweitzer.
" As well as the amount of property crimes that we have in the surrounding areas and drug-related crimes that are in the area. We thought it made a lot sense to bring a drug treatment court to Medicine Hat."
Adequate resources will be available for law enforcement through the program.
"We are also ensuring law enforcement in southeastern Alberta has the resources they need to disrupt and dismantle the organized crime groups that traffic and supply the drugs that take a terrible toll on our communities. This is a part of a province-wide strategy that the way to combat crime, is to cut off drugs at their source and support addicts to prevent them from reoffending," the release read.
Medicine Hat's drug treatment court was one of five announced in the province outside of Calgary and Edmonton and a part of a four-year investment of up to $20 million towards expanding the program across the province.
"The drug treatment courts have been in Calgary and Edmonton for about 15 years and they've had an immense amount of success, where graduates of those programs, 70 per cent of time, they never commit another criminal offense," said Schweitzer.
"It's had a good track record in our two largest cities and now it's time to bring it to other communities across the province to help deal with addictions. But also to deal with a rural crime problem that we have across Alberta."
There are a few guidelines that have to be followed if the criminals are to graduate from this court-supervised treatment program.
"The one thing that is really important about this program is that people have to admit their guilt up front," said Schweitzer.
"Sentencing is deferred and it's contingent on them graduating from the program. If they don't follow through on the treatment that is required, and it's a 12 to 18 month program, they can be removed from program and sentenced immediately."
The Provincial Court of Alberta weighed in on the announcement.
"The fundamental purpose of sentencing is to protect society and to contribute respect for the law by imposing sanctions which include denouncing certain behavior and deterring certain conduct," said Chief Judge Derek G. Redmen,
The new funding was established to have drug treatment courts set up in Medicine Hat, Red Deer and Lethbridge by late 2021 and two other cities to be named later.
The government is also providing the Alberta Law Enforcement Response Team (ALERT) with a $50-million budget increase to disrupt and dismantle organized crime.
"A portion of this new funding has been used to establish a specialized team to investigate property crime in southeastern Alberta (and) to investigate property crime motivated by the traded in illegal drugs," said the release.
ALERT has established Southeast Alberta property crimes team in partnership with the Medicine Hat Police Service and the RCMP. This unit is focused on connection between street level drug trafficking and stolen property and is often used as a form of currency for criminals.
"Criminals don't respect borders. Through an integrated, collaborative policing approach, we can provide a swift and agile response to this multi-jurisdictional crime trend," said Supt. Dwayne Lakusta, ALERT's chief executive officer.