County of Forty Mile council meets virtually with MLA Hunter
Posted on September 2, 2020 by 40 Mile Commentator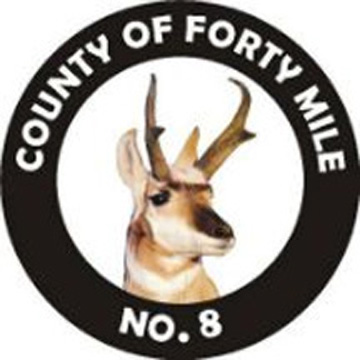 By Justin Seward
Commentator/Courier
The County of Forty Mile councillors had the opportunity to express their concerns in a virtual meeting to Taber-Warner MLA Grant Hunter over the proposed assessment changes that involves oil and gas companies at their Aug. 26 meeting.
The provincial government notified rural municipalities recently that they are considering changing to the linear assessment model to help struggling oil and gas companies.
Scenario A could see a municipality lose six per cent of its tax revenue and goes up to 20 per cent in the worst-case scenario. As result many rural municipalities could be losing a significant amount of their property tax revenue.
The criteria in all four models look at base cost, depreciation, land assessment, statutory levels and other adjustments.
The County of Forty Mile could stand to lose $950,000 (eight per cent) in the first year and if the municipality reaches $1.4 million by year four, they would be forced to lay off one-third of its staff and increase the mill rate by 55 per cent.
"He was pretty well aware of the numbers that were going affect our county and the amount of tax that we end up losing," said Steve Wikkerink, county reeve.
"But (it was) a really good visit with him and (we) brought up some of our concerns. And that this was too sudden of a bombshell to be dropped on any municipality right now. They have to do this process a little bit differently.
" He said his position was that he himself was going to oppose the proposed changes and trying to get the government to relook at this and take a different approach."
Another issue that council brought to Hunter's attention was oil companies still operating and choosing not to pay their taxes.
"Right now as a municipality, we have nothing in our hands to companies like that," he said.
"We said you've got to fix that problem while you're trying to give these guys a break. He admittedly said 'It's going to be a tough one.'"
It has been 15 years since the last linear assessment was for oil and gas.
Hunter assured council will not have to lobby to the new Minister of Municipal Affairs Tracy Allard as the information will be passed on.
Allard visited Lethbridge on Sept. 1 and Wikkerink and county CAO Keith Bodin were in attendance at the tour stop.
"The biggest thing she's coming down for is she does want to hear the southern municipalities concerns on this whole assessment review," said Wikkerink.
Briefs:
Dust control
The calcium the county puts in front of yards that are either on a gravel haul or from rate payers that paid to have dust control in front of their yards did not have a good year
" It seemed like on the dust control part faded off quickly this year," said Wikkerink.
"We didn't have good dust control. So quite a few councillors have been getting phone calls on that. Our public works supervisor, Wes Hollingsworth, was in the meeting at that point and he has told us that they were going around to do their second application for everybody."
Hollingsworth told council he was hoping to have everybody done in three days.
RMA Convention
The RMA (Rural Municipalities of Alberta) Fall Convention is scheduled in November subject to them finding the right space they need.
Wikkerink says they are working on doing the convention virtually.
Council decided they want to stay home and come into council chambers and be a part of the convention through Zoom.
Bulk water stations-
Council was concerned that the volume dropped off at Burdett's bulk water station when the new to Bow Island station opened up last year.
"Burdett has pretty well stayed the same as last year," said Wikkerink.
"The Bow Island bulk water station is selling just as much water as the Burdett one."
About $30,000 worth of water has been sold in Bow Island and Burdett this year.
"In that, there is a little bit of profit for us as a county, which we need in order to keep the things running, " he said.
HALO
The county sold an old water truck at Lethbridge's Richie Bros Auctioneers in July for over $5,000. All the proceeds went to HALO Air Ambulance. The auction had a section dedicated for HALO.