Longtime Elkwater summer resident cherishes living in the Cypress Hills, time with WRNS
Posted on September 2, 2020 by 40 Mile Commentator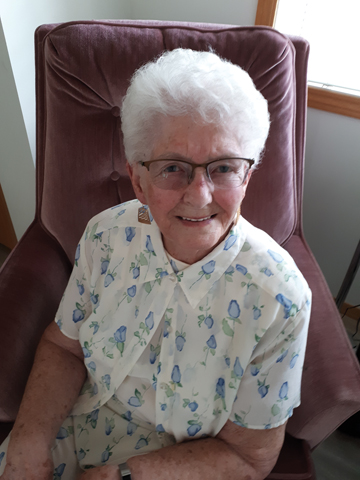 Photo Submitted by Betty Maddaford A WONDERFUL TIME: Betty Maddaford still loves residing in Elkwater, while cherishing the memories of the many summers spent in the area. A life highlight highlight also includes her time with WRNS.
By Justin Seward
Commentator/Courier
Betty Maddaford began going out to the family cabin in Elkwater for two months every summer since she was two-years-old.
She remembers her days growing up going down to the town site where there was a Flat's Dance Hall, Peter's grocery store and mail outlet and campgrounds with cabins in it.
"We had no power, no water and when we left to go down to the beach, that's where we spent most of our time as youngsters," she said.
"We took two syrup pails and filled them up with drinking water at the pump that belonged to the government. It has changed a great deal needless to say over the years."
Elkwater did not have any cattle guards and she saw cows come down and drink at the water.
She also lived through the Great Depression in and learned about a Canadian Prisoners of War Camp at Nichol Springs during that time.
"These (prisoners) were planting trees. Well the war came along and they were gone," she said.
"Of course, there was a (German) Prisoners of War Camp in Medicine Hat. They brought some of the Prisoners of War out to this camp at Nichol Springs and they were planting trees there too during the war for a little while."
The work camp closed in the early 1940s.
She did the Cypress Hills trip every summer until she was 18, and it was then in 1950 the Hat native moved to Edmonton until 1952.
Maddaford joined the Women's Royal Canadian Naval Service (commonly known as WRNS) during the Korean War that same year she left Edmonton.
"I was too young during the Second World War," she said of joining the WRNS.
"I always said that if they ever had WRNS again, that's where I wanted to join up. I was in Edmonton and there was a reserve WRNS at HMCS Nonsuch-naval base in Edmonton. When they said you could go active during the Korean War. I decided 'Well I was away from home anyhow, I may as well go.'"
She was stationed in a few places and experienced what the WRNS did while the Navy went overseas.
"I was stationed at Cornwalli (N.S)., Moncton (and) then Ottawa," she said.
"I was (in) a group of 10 that went to Churchill, Man. (after Ottawa). At that time in the 1950s, we weren't allowed to go on board ships. What they did was they had the WRNS cover in Canada, so the Navy could go overseas to Korea. They didn't have the facilities in those days to have both male and female on the ship."
As a part of the WRNS, she was a radio operator in Churchill, while other members served as administrative types and radar operators.
She married her then husband, Norm Kelly, in Churchill, before they were both transferred back to Ottawa.
"He got out of the Navy and I stayed in until 1956," said Maddaford.
It while she was in Ottawa she had three kids before returning to the Gas City in 1968.
"I would say it's the most wonderful experience of my life," she said.
"I met so many great people all across the country. There were girls from all across the country and I still keep in touch."
Upon her return to Medicine Hat, she worked for the city for 20 years before retiring and got toenjoy the Cypress Hills more.
"Elkwater was my second home," she said.
"I spent two months of every year there and when I came back to Medicine Hat in 1968. My folks still had their cottage such as it was. So I took my kids when I could, they enjoyed the fun. We eventually got a boat and I married again (Frank Maddaford in 1971)."
The Maddafords were able to fix up the older cottage her parents owned.
"Finally in 1988, I got a chance to get an old teacherage( accommodation in the form of a house for teachers that is provided by the school) from the Hutterite Colony near Orion. I bought it and had it moved to Elkwater and fixed up and since I've retired, I still spend most of my time out at Elkwater," she said.
Frank passed away in 2000.
Maddaford turned 90 on Aug. 30 and did an early celebration walk a couple weeks ago.
"My friend, Veryl (and I) walked 90 laps-10 laps a day for nine days-around the community centre parking lot before my 90th birthday, which is on Aug. 30," she said.
Family members came to Medicine Hat to celebrate with her over the weekend.
Maddaford has always belonged to the Community Association and before that the Recreation Association.
She has three step kids, four of her own, 17 grandchildren and 20 great-grandkids.