Redcliff Public Library hosting book sale through most of September
Posted on September 2, 2020 by 40 Mile Commentator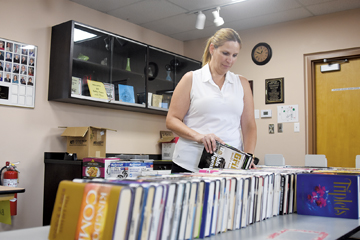 NEWS PHOTO MO CRANKER Redcliff Public Library manager Tracy Laturnus gets a table of books ready for an upcoming book sale.
By Mo Cranker
Alta. Newspaper Group
Redcliff Public Library will be hosting an almost month-long book sale starting Sept. 1.
The sale will run until the 26th and will consist of books from the library shelves, as well as donated titles.
"We've got a bit of everything," said library manager Tracy Laturnus. "We've got a good mix of genres and authors for people to come and look through.
"We have so many books, DVDs, audio books and Blu Rays."
The sale is running Monday to Thursday from 11 a.m. to 7 p.m. It will run from 11 a.m. To 4 p.m. on Friday and Saturday. To participate in the sale, people need to book a 30-minute time slot by calling the library.
"We're limiting the people in the room to the volunteers and two other people," said Laturnus. "We also want people to know if they have a cohort larger than two people then they can let us know and we will let them in. We just won't let strangers in with them."
Books at the sale have been quarantined prior to Sept. 1. As people pass through the sale, they will be interacting with the books.
"We can't guarantee that a book at the sale hasn't been touched," said Laturnus. "We're asking that people bring their own bag or box to carry books. We don't want our volunteers to have to handle books once they've been touched."
Laturnus says there will be a smaller selection due to room size at this sale.
"People may be used to our sale during Redcliff Days," she said. "We have a smaller room we're working with. So We're going to have fewer books out at any given time.
"People should book multiple appointments to browse during the month. Then they won't miss anything."
There are no set prices for the sale, people are asked to donate to pay for books.
"We know people are struggling right now," said Laturnus. "We didn't want to put a firm price on things.
"We're asking people to give what they can."
Money raised at the sale will buy new books for the library.
The library can be reached at 403-548-3335.