Whitla Wind facility safety exercise a success
Posted on September 2, 2020 by 40 Mile Commentator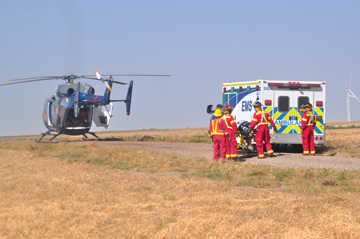 Commentator/Courier Photos by Justin Seward Vesta, Capital Power, HALO Air Ambulance and local participated in a simulation safety exercise of transferring an electrocuted worker from a wind turbine's necelle to HALO's helciopter at the Whita Wind facility on Aug. 26.
By Justin Seward
Commentator/Courier
Wind turbine manufacturer Vestas, Capital Power, local emergency responders, police and HALO Air ambulance coordinated a response drill at the Whitla Wind facility, southeast of Bow Island, on Aug. 26.
The exercise saw a simulation of a an electrocuted worker, being transported down from a nacelle from 105 metres high.
The nacelle contains the generator, gearbox, the main rotor shaft and has walkways where the workers are doing their work.
"Today, what they had to was take an unconscious person and get them into what we call a spec pak-that's a spine board with a harness attached to it," said Lyle Poitras, Whitla Wind farm site manager.
"You put them in there and you have to secure their head, neck, legs and their feet, get them all strapped in and then you connect it to an emergency descent device. They use that device to lower the person down."
Once the victim was down they were transported to HALO Air Ambulance.
Vestas site manager Sam Toohey said the exercise was a high risk, high-pressure rescue and getting the technicians involved with this rescue was important.
"Getting all of the stakeholders, so EMS, fire and police in the local area and HALO involved, it really gets everybody familiar with the site," he said.
"It's a new site, so not everybody is familiar with roads and the overall area with the wind farm."
He saw components such as the amount of people keeping to the COVID-19 response plans as a challenge.
"That was a high point for us, making sure we could keep this drill running regardless of COVID. I would say that was the biggest challenge," said Toohey.
The response time took 54 minutes from wind turbine to the HALO Air Ambulance.
"It actually went really well," said Toohey.
"In speaking with the up-tower crew, they handled it really well-difficult rescue to do. To say 50-54 minutes is really good."
Safety is emphasized more as turbines are constructed.
"The more wind turbines we get standing, the more personnel that are required to do the maintenance on them and as well the construction of them," said Poitras.
"It's so important that we keep current on all of our safety training, drills and planning so we can prepare for incidents like these that might occur."
Poitras said he has been involved with wind industry for 13 years, and never had anything of this nature of a rescue happen on one of the sites he worked at.
"I take comfort in that," he said.
Site workers have a large amount of training to respond to these types of scenarios, he added.
"We're hugely invested in our communities," said Paul Carolan, HALO Air Ambulance CEO.
"This is a great example of not only local emergency services coming together to work for a common goal, but also (with) really closely related big corporations like Capital Power and Vestas. They invested in making sure this happened and gave us an opportunity to evaluate our response along with other emergency services."
Carolan says HALO has been on the radar since wind and solar companies have been investing in this part of the province.
"We get regular updates of where wind turbines will be located," he said.
"That makes it possible for us to participate with them and have a pretty good idea where their work crews are and where a high probability of an accident is."
Carolan says the recent fundraising activities have secured operations into the first quarter of 2021.