Senator Gershaw and BIE's first week had 'gone as smooth as it could possibly go'
Posted on September 9, 2020 by 40 Mile Commentator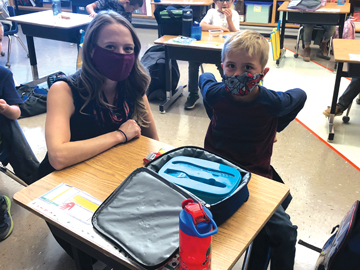 Photos submitted by Scott Angle Grade 1 teacher Mrs. Tessa Woytowich with student Zander Oldenzijl.
By Justin Seward
Commentator/Courier
Senator Gershaw and Bow Island Elementary's first week of school could not have gone any better according to principal Scott Angle.
"It's gone as smooth as it could possible go, considering the safety items that need to be put in place, the new routines and following what our chief medical officer has put in place, said Angle.
"I'm very happy with the work the staff have done. Parents have been excellent and students have been really nice to work with regarding all the things we've had to put in place."
The feeling was excitement by staff when they saw the students get off the bus and entering the school
"This is why we do our jobs is so that way we can see students," he said.
"Even if there is a few safety things that need to be done, it's certainly a lot better than the alternative and it's been fantastic having them back. Everyone is happy that this has moved forward."
Angle says they were planning for the reopening of the schools in May for this year.
"Conversations among staff(included) routines, and things that need to change and safety practices," he said.
With students being out of school for six months, there will be an adjustment to what the classroom structure will look like again.
"Them getting back adjusted to the structure in the first place is different than usual. I predict a couple weeks here of minor adjustments," he said.
He says the students have done really well with basic safety protocols like mask use for Grades 4-12 when social distancing can't be practiced and hand sanitizing.
"They had no problem with sanitization aspects of it and even though the mask portion was put down from Alberta Education a little later, students have accepted it well, said Angle.