Hilda ranch receives the 2020 Alberta Century Farm and Ranch Award
Posted on September 9, 2020 by 40 Mile Commentator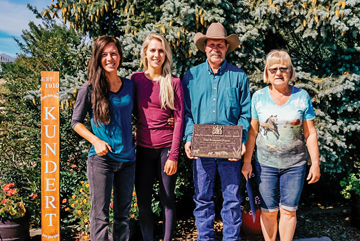 FARMING RECOGNITION: Kelsey, Korilye, Ken and Sherry Kundert were on hand at the Double K Ranch to receive the 2020 Alberta Century Farm and Ranch Award on Sept. 3.
By Justin Seward
Commentator/Courier
Ken Kundert and his family accepted the 2020 Alberta Century Farm and Ranch Award for their Double K Ranch near Hilda on Sept. 3.
The annual award recognizes farming families who have continuously owned and actively operated the same land for 100 years or more.
The Double K Ranch has been actively operating for 110 years.
"It's quite a significant milestone for us," said Kundert.
"We really take pride in what we do and where we are, and thankful that our forefathers made all the hardships that they did and settled here and made their way."
Kundert's great-great grandparentas, Heinrich and Regina Kundert, immigrated to Canada in December 1909.
"Then in June 1910 they came up to this northeast of the 218 one-quarter and homesteaded, and it's been continuously run by our family ever since," said Kundert.
The land has been operated by four generations of Kunderts including his great grandparents, grandparents, his father and now himself.
His wife Sherry and daughters Kelsey and Korilye also provide help on the Ranch.
"It's very important," he said.
"Not everyone can be here all time. But it's very important to know that our family values the significance in having our farm and ranch continuously run under our name for the last 110 years."
When his great grandparents arrived at the section of land, the operation started out as mixed farming which had anything from cows, chickens, ducks to turkeys and some farming.
"It gone through more of a farming-type of operation through the years," he said.
"We have in the past 20 years converted that more to the cattle side. We're more on the ranching side today."
The Double K Ranch runs mostly all cattle now and farm for feed, he added.
"It's still a family-farm ranch operation," he said.
"Although we've had to look at it more as a business. So all aspects of it, you've got to look at it more like a business side, instead of a family operation. The bottom end has to meet the top end, otherwise there won't be nothing in the middle."
Kundert said with southeastern Alberta being a semi-drought area, you need to be resilient.
"You learn to look forward and work accordingly so you can have some extra in the good years and prepare for the bad years, " he said.
Brooks-Medicine Hat MLA Michaela Glasgo and her assistant came to the Ranch to present the Kundert family with the plaque on Thursday.