Local organizations receive COVID-19 Response funding
Posted on September 9, 2020 by 40 Mile Commentator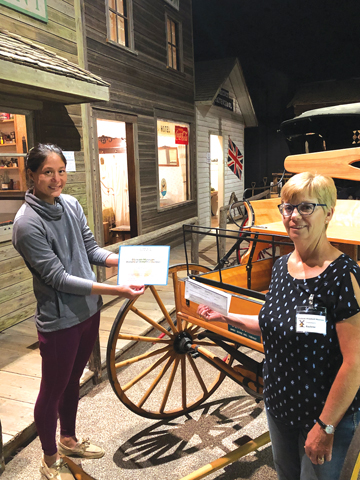 Photo submitted by Rachel Stromsmoe Rachel Stromsmoe, Etzikom Museum's volunteer grant officer, and volunteer Raylene Hobbs holding up the COVID-9 response fund cheque from the Rural Community Fund of Forty Mile.
By Justin Seward
Commentator/Courier
The Community Foundations of Southeastern Alberta, through its rural chapter, the Rural Community Fund of Forty Mile, doled out funds through the COVID-19 Response Fund to two local organizations recently.
Organizations could submit grant applications if they felt there was a need to meet the COVID-19 restrictions and guidelines.
Both the Etzikom Museum ($1,336.50) and Bow Island's Golden Ages Club ($5,000) were the recipients of the first cycle funding.
The Museum is going to use the money towards purchasing portable picnic tables and a hand sanitizer stand in order to reduce the risk of COVID-19 spread.
The stand is for customers to use as they come in and out of the museum and the picnic tables are for the outdoor area and to encourage visitors to utilize 11 acres of property the Museum has, said Rachel Stromsmoe, the Museum's volunteer grant officer.
Additionally, the picnic tables would be easily disinfected after use.
"We're definitely thankful to have CFSEA in our area and to be supported by the Forty Rural Fund," said Stromsmoe.
"It's just nice that they can support us being successful this year, as we weren't sure that we would be able to navigate all the different new requirements this season. It's nice to have community support."
The Golden Ages Club is using their funding for PPE (personal protective equipment) as a part of their reopening strategy, which is tentatively scheduled for next month.
Masks, hand sanitizer and additional cleaning needs will be purchased with the funds.
"We'll be paying the janitor extra because of the extra work she'll have to do sanitizing," said Joyce Olsen, Golden Ages Club president.
"It covers your wipes, gloves, masks, sanitizer. If we put up an acrylic shield, where we serve food, it covers all of that. Anything related to COVID."
Olsen says it was important to apply for the grant because it was available and because of COVID expenses.
"When we are open we want to protect our seniors as much as we can," said Olsen.
Michelle MacLean, Rural Fund coordinator, says they have been fortunate with not having as many applications as a larger centre.
"I think we have been fortunate that a lot of local community businesses and individuals have stepped forward to support various organizations," said MacLean.
"Then when there has been that additional extra need, then they've been able to come and approach us for a grant."
The first cycle of funding for the COVID-19 Response Fund is nearly complete and has doled out over $119,000 to various organizations across the southeast Alberta region.