A replica dinosaur skull arrives in Irvine
Posted on September 16, 2020 by 40 Mile Commentator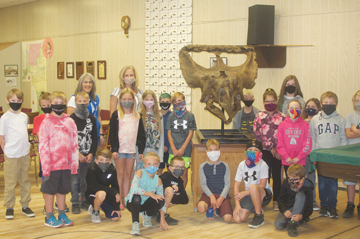 APPRECIATING LOCAL HISTORY : Mrs. Yeast's Grade 4 class from Irvine School came into the New Horizons Centre in Irvine on Sept. 10 to get educarted on the history of the chasmosaurus irvinesis cast skull that arrived in the hamlet early last week. Pauline Guillet-Robinson (back row left) gave the talk about the dinosaur that once roamed the area.
By Justin Seward
Commentator/Courier
A cast head of a dinosaur that roamed the area 72 million years ago arrived at Irvine's New Horizons Hall on Sept. 9.
The cast skull of the chasmosaurus irvinesis came from the natural history branch of the National Museum in Ontario.
The chasmosaurus name is derived from the herbivores' gaping holes, or chasms, on the frill of its skull.
William Yanke discovered the skull in 1948 on his farm near Irvine.
In August of 1958, a team of scientists from the museum came in and extracted the skeleton.
"It's about the community taking pride in their heritage and the background of what Irvine is about and having something to look forward to," said Pauline Guillet-Robinson, who manages the ATB Financial and café in the hamlet.
"I was really surprised at how many people did not know there was a dinosaur in Irvine. There's a lot of history and the more that we delve into the history of Irvine, I think more people become more proud of their community."
Guillet- Robinson says this is a stepping-stone for Irvine to be put on the map.
The process to get the replica skull to the hamlet began when Robinson was looking in a history book 10 years ago.
"I was a member of the Prairie Memories Museum and they had a book and I was looking at it and noticed that. I thought 'Oh this is interesting," said Robinson.
After she discovered some information on the dinosaur, Robinson kept looking into it more.
"I tried to find out where the dinosaur had been located and it was like a dead end," she said.
"I went to Drumheller to find it and they didn't know. It seemed like nobody knew."
It was a year ago that Robinson emailed Jordon Mallon, a paleontologist at the Canadian Museum of Nature.
"That's where it started," she said.
"It was actually supposed to be here in March. But because of COVID, it got postponed."
Irvine School's Grade 4 class came in to listen to the history on the skull on Thursday.
"It's important to work with the kids and with the Grade 4s this year, they're learning about the paleontology," she said.
She anticipates she will have more classes come in to the look at the skull.
If schools or people would like to see the skull, they can contact Guillet-Robinson at (403)-834-3407.
The original dinosaur bones are at the Canadian Museum of Nature in Ontario.