Young felt good about her second season on the race track
Posted on September 16, 2020 by 40 Mile Commentator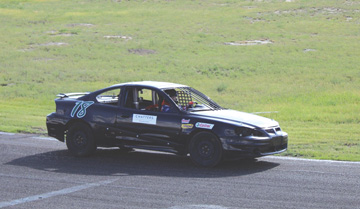 Photo Submitted by Brittney Young Commentator/Courier File Photo Brittney Young is seen here in her first year on the track in 2019. She was grateful to be on the track with her fellow racers in 2020.
By Justin Seward
Commentator/Courier
Burdett's Brittney Young completed her second yearin the V6 Rumblebee class race car division at the Medicine Hat Speedway this past weekend.
The class began their season a month later in August and only managed to get in five races this year in the COVID-19 pandemic-shortened schedule.
"We (did not) run for points this year," said Young.
"So it was just points for the night. It's if we can make it and everything like that."
A trophy is handed out for the day points instead of the main race.
Young says the class was unsure if they would even be racing this year.
"We actually didn't work on my car at all this year," said Young.
"I believe a lot of people were the same way as well. Some people did get to work on their car, but a lot of people weren't sure if we would be racing."
With less racers than normal, it made for a lot room the track
"There's more room on the track," she said.
"It's not more difficult. It's not less difficult. It's just not much of show for the fans."
The class saw five cars race this season. The normal is eight.
With it being only her second year on the track, overall she felt good about coming into this season.
"I felt really good coming into this year. My car ran good last year," she said.
"So this year, I felt good in my car."
She says there is always room for improvement and just being a little faster and smoother.
"All of us that are there are just happy to have something normal this summer. Even if it's just going out to the track and running the car," she said.